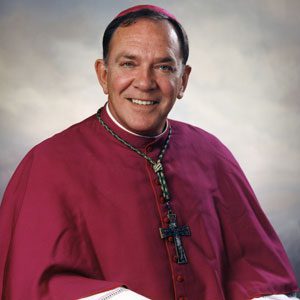 The Choir and Orchestra of the Basilica of the National Shrine of Mary, Queen of the Universe, will present a special concert on Friday, February 28 at 7:30pm celebrating the life of the late Bishop Norbert N. Dorsey, who passed away in February 2013 after a long battle with cancer. Bishop Dorsey was bishop of the Roman Catholic Diocese of Orlando from 1990-2004.
Featured on the program will be the beloved "Requiem in D Minor" by Wolfgang Amadeus Mozart, written at the end of his life and used prominently in the soundtrack to the 1984 academy award nominated movie "Amadeus".
The Basilica Choir was founded to minister to the many tourists and visitors to the central Florida area, and to provide sacred music at weekend Masses. The singers in the choir are all professional musicians in the Orlando area and are under the direction of Dr. William Picher.
Admission charge for the concert is $10 for adults, under 12 are free. Tickets are available in advance at the Basilica Gift Shop or by calling 407-239-4010. They will also be available at the door. Group rates are also available.. The Basilica of the National Shrine of Mary, Queen of the Universe is located at 8300 Vineland Avenue in Orlando, near the Lake Buena Vista of I-4 (exit #68). There is ample free parking.
For more information, call (407) 239-6600.
The Basilica of the National Shrine of Mary, Queen of the Universe
8300 Vineland Avenue
Orlando FL 32821
(407) 239-6600 x317
music@maryqueenoftheuniverse.org