LAKELAND | Midday Meditations is a classical concert series begun at St. Joseph Parish in Lakeland in 2006. It was Patrick Fleitz's first year as director of music. "I felt the beauty of the church and the excellent acoustics were ideal for classical music… I had seen this idea used in churches across the country – a lunchtime concert series – and knew that here in Lakeland we did not have anything like it. Fourteen seasons later, we are still going strong."
Fleitz is a classically trained musician as are many of his friends and colleagues. Yet his schedule leaves little time to prepare a bi-weekly recital, so the short concerts are ideal. Performers are all highly talented musicians. Many of them perform with local orchestras, others are music faculty members from the local colleges, and some are young artists from the local performing arts high school, explained Fleitz. Although not all the music is considered sacred, the programs do incorporate such pieces. The parish's downtown location is perfect, providing a time of respite in the midst of a busy workday.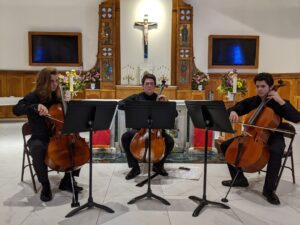 "Lakeland is a culturally rich community that possesses so much talent, especially from our young people," said Father Tim LaBo, pastor. "St. Joseph's Midday Meditation Concert Series showcases this local talent and fills our church with the opportunity to thank God for all that has been given to us."  Mass follows the meditations, providing opportunity for an encounter with God's living presence.
Recently, Fleitz's son, Dennis, participated as part of the Harrison Cello Trio from the Harrison School of Arts. He and cellist Andrew Stewart recently made the All-State orchestra. Another Harrison student, a pianist, joined the three cellists on one of the pieces performed. The high school students' eclectic program included the beautiful "Requiem for Three Cellos" by David Popper.
"Mr. Fleitz has created a schedule of musicians and performers that touches the hearts of all who join us," said Father LaBo. "As Pastor of St. Joseph, I am grateful for this creative way in which our church can host the arts and music that so intimately ties into our faith and love of God."
By Glenda Meekins of the Florida Catholic  December 2, 2019