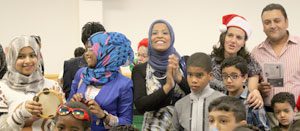 Damien Mukalenge now calls Central Florida home. But just a few months ago he was living 6 thousand miles away in the Democratic Republic of the Congo, a small country in central Africa known for its war and violence.
Shortly after arriving in the U.S. he began to experience the kindness and compassion of strangers, the employees and volunteers from Catholic Charities of Central Florida who help newly-arrived refugees to adjust to their new life. One of the first events he attended was the annual Breakfast with Santa on Dec. 14 that is meant to share Christmas love with newly arrived refugees.
"This year I am here in the United States to celebrate Christmas and New Year!" Mukalenge says with a smile.
"United States is a blessed country, a very wonderful country. Since I've been here I've been happy. I've been enjoying it," he added.
Mukalenge is one of many refugees, asylees, and immigrants who come to the United States seeking a better life. They endure tremendous hardship before and during the journey. In this year's National Migration Week (January 5-11) theme, "Out of Darkness," we are called to turn our attention to the vulnerable immigrant and refugee populations found living in the margins of society.
"This year's theme is so appropriate. Currently we have families who live in the shadows of our society due to an immigration system that has not met the economic and labor needs of our country for a very long time" explains Richard Logue, director of Catholic Charities of Central Florida Immigration and Refugee Services. "In advocating for a legalization process that will bring people "out of the darkness," individuals will be allowed to fully participate in the communities in which they live."
The Catholic Church has long worked to be that light for immigrants and refugees, drawing them out of the darkness of despair, uncertainty, and persecution by providing for their needs, advocating for their rights, and welcoming them home. This work is inspired by Sacred Scripture and a long history of Catholic social teaching which explains that every person has dignity and is entitled to basic human rights, including the right to migrate to provide a better life for their family.
It is that right which brought the nearly 300 refugees to Central Florida who were assisted by Catholic Charities Refugee Resettlement program in the past year, escaping war, discrimination, famine, and political turmoil to find a new home in the United States. The arrived from countries such as the Congo, Somalia, Cuba, Iraq, and Egypt.
"Refugees spend years in refugee camps overseas with an uncertain future" explains Logue. "By accepting and resettling refugees in local communities, families are given the opportunity to build a new life here and become fully integrated in our community."
Often arriving with little more than the clothes on their backs and little knowledge of their new country's language or culture, caseworkers assist refugees with housing, basic necessities, employment, cultural orientation, English as a second language classes, youth mentoring programs, and a network of support for parents and children.
Many immigrants also arrive in Central Florida seeking opportunities to support themselves and their families. Without the protection of legal status, these families often live in the shadows, vulnerable to unjust working conditions, exploitation, and fear of family separation by deportation. Programs such as the Hope CommUnity Center and Catholic Charities of Central Florida's Immigration Services work to dispel their darkness by providing assistance that will bring them fully into society, including: immigration consultations, citizenship classes, and a variety of social services.
"Our outreach is to the immigrant community, not only to provide social services, but to rebuild the fractured community where they are not included" explains Sr. Ann Kendrick with the Hope CommUnity Center. "Our work is about integration, helping them feel a part of society and being a place where they can feel safe and feel confident to be the people God calls them to be."
The call to care for those in need and to "welcome the stranger" (Matthew 25:35) is one that all the faithful share and there are many opportunities to be involved in helping immigrants and refugees out of darkness. Volunteers are needed to mentor youths, tutor in English, donate basic household supplies, provide office assistance, advocate for immigration reform, and provide community orientation.
Pope Francis speaks often on the need to care for the poor and suffering among us. In his World Day of Migrants and Refugees Message, he challenges the world to extend that care to one of the most vulnerable populations, saying,
"Every human being is a child of God! He or she bears the image of Christ! We ourselves need to see, and then to enable others to see, that migrants and refugees do not only represent a problem to be solved, but are brothers and sisters to be welcomed, respected and loved."
To volunteer with Catholic Charities of Central Florida Refugee Services, contact: 407-658-1818 or visit www.cflcc.org/refugee/home. To volunteer with the HopeCommunity Center, contact: 407-880-4673 or visit www.hcc-offm.org.