ORLANDO | The first day of Catholic Schools week was filled with excitement at Bishop Moore High School. Yellow and gold pom poms bounced above the marching band. A sea of excited Catholics surrounded pumped up students. But this wasn't the big game. The crowd was ecstatic about all the possibilities of a new building – the Moore Center for Excellence.
Bishop John Noonan blessed the ground before the president and principal of Bishop Moore Catholic joined him, grabbed gold shovels and flipped dirt into the air. The young adults instantly cheered "Let's go, Hornets!" – a nod to their stinging mascot.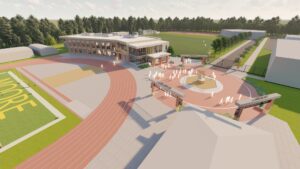 "I've been on this sacred ground for about 20 years. This has been a long-time coming," said Principal Scott Brogan. "We are not only building a state-of-the-art facility, weight room and locker rooms, but it will also have classrooms that prepare our men and women for the future… It's not just about the body and the mind, but the spirit. This building will also be used to develop students' spiritual selves—to focus their attention on what this is about—serving one another and serving our Lord."
Plastic pink tape marked the footprint of the future two story facility that will be just under 28,000 square feet. In addition to the training room, the Moore Center will have conference space, a catering kitchen, and a store where fans can stock up on Bishop Moore merchandise. There will also be a reception hall with balconies overlooking the sports fields and a tunnel so student athletes can run onto the field.
The project would not be possible without the many donors who came up with more than $3 million in funding. President Tom Doyle thanked them and acknowledged the staff of Catholic Foundation of Central Florida for accompanying, guiding and supporting Bishop Moore in the process. The Moore Center for Excellence is scheduled to be complete by late 2020.
Click first image for slideshow.
By Glenda Meekins of the Florida Catholic January 27, 2020