New Building to Include Chapel, Café, Multi-Purpose Space and Offices
Catholic Campus Ministry at UCF has been steadily growing over the past five years and is now preparing for a huge expansion. Its current center is a storefront located off campus that is 2,400 square feet. The new center under construction will provide 20,000 square feet of space located adjacent to 600 beds of luxury student apartments near the heart of the UCF campus with dedicated on-site parking and continuous direct UCF bus service to and from the campus.
"We have been longing for a permanent home for campus ministry at UCF," said Tony Marco, associate campus minister, Catholic Campus Ministry at UCF. "This new center is a tremendous gift that will lead to a flourishing of the Catholic faith on campus for those currently involved in Campus Ministry and will be a beacon of hope to students who are rediscovering their Catholic faith."
Marco and other students have met with the builders to provide input on the design of the center. Crisely Melecio-Zambrano is a senior at UCF who has been involved in Catholic Campus Ministry since her freshman year. She is thrilled that the ministry will now have dedicated space for the celebration of Mass and a chapel for daily prayer.
"Our ministry runs on prayer. The whole purpose of Catholic Campus Ministry is to grow in our relationship with Jesus Christ. This center will help us on our journey," said Melecio-Zambrano.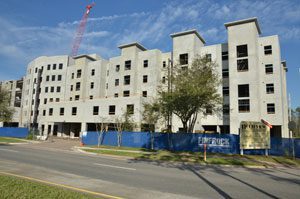 Located on Lockwood Boulevard, directly north of the UCF campus in Orlando, the Catholic Campus Ministry Center is part of the seven-story "NorthView" complex that will also include a Hillell Center for Jewish students. Housing at NorthView will be managed by UCF Housing and Residence Life and includes upscale amenities, such as a resort style pool, fitness center, club game room and roof top sky deck.
Fundraising efforts are underway to provide the majority of the $2 million necessary for the design and infrastructure of the interior of the center. The Catholic Campus Ministry Center will receive some funding from the Diocese of Orlando's Alive in Christ Capital and Endowment Campaign. Fundraising continues for endowments and planned gifts to sustain on-going operating expenses and to ensure future operations funding.
The journey to construct a new Catholic Campus Ministry Center began more than five years ago but the area's economic downturn slowed the progress. The Center is an answer to the prayers of many.
"We have been praying for this for a long time," said Melecio-Zambrano. "To see it become a reality has been such a blessing."
For more information on the new Catholic Campus Ministry Center at UCF, please contact the Catholic Foundation of Central Florida at (407) 246-4889 or to learn more about Catholic Campus Ministry visit www.ccmknights.com. Students planning to attend UCF this fall should contact the UCF Student Housing Office at 407-823-4663 for information on availability and priority sign-up dates for the NorthView apartment units or visit http://northview.housing.ucf.edu.