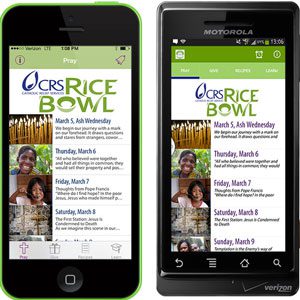 Makes Lenten Experience More Meaningful While Making the World a Better Place.
CRS Rice Bowl, Catholic Relief Services' 39-year-old Lenten program, known for the colorful cardboard rice bowl used by generations of Catholics each Lent, is making the leap to mobile devices today with the introduction of its first App.
The Rice Bowl App allows people to tap into a rich spiritual experience and make the 40 days of Lent a time that can change their lives while helping to get closer to a world free of hunger. Now, more than ever, CRS Rice Bowl is the simplest way to bring Lent into your life, online, offline, anytime, anywhere.
Pope Francis has captured the world's attention to the plight of hunger and poverty around the world. He said, "the scandal that millions of people suffer from hunger must not paralyze us, but push each and every one of us to act: singles, families, communities, institutions, governments, to eliminate this injustice". For people looking for a way to respond to this call, CRS Rice Bowl's mobile app can help.
All the resources needed to make Lent a more personal experience in a relevant and convenient way are available on the CRS Rice Bowl App. Users can schedule delivery of daily reflections to their mobile device, set and track progress towards a personal Lenten goal, view simple meatless recipes to prepare on Fridays, and read or watch stories about the people whose lives have been changed through the program. The App is free and can be downloaded from the iTunes and Google Play Store or at crsricebowl.org/app
Features include:
– Prayerful reflection for each day of Lent
– Customizable tool to set Lenten sacrifice goal and track progress towards its achievement
– Meatless recipes for Fridays during Lent
– Stories and videos of people who benefit from prayers and almsgiving to CRS Rice Bowl
– For more information on the program, please visit crsricebowl.org or see the online media kit.
Catholic Relief Services is the official international humanitarian agency of the Catholic community in the United States. The agency alleviates suffering and provides assistance to people in need in 91 countries, without regard to race, religion or nationality. For more information, please visit www.crs.org or www.crsespanol.org and follow CRS on Twitter @CatholicRelief and @CRS_expertise; and youtube.com/user/CatholicRelief.