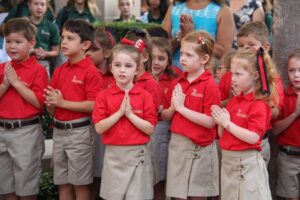 by Linda Caldwell
This academic year, Catholic school children throughout the Diocese of Orlando will embark on their own Year of Mercy, centered on Pope Francis' Extraordinary Jubilee of Mercy, Dec. 8, 2015-Nov. 20, 2016. Lessons and activities on mercy and service to others are planned to bring the Pope's message of love to light.
In the spirit of this journey of faith, the Office of Catholic Schools, with the approval of Bishop Noonan and the Diocesan School Board, has created a permanent committee on Mission Effectiveness.  This committee is comprised of the five high school campus ministers, principals, the diocesan director of youth ministry, Father Ben Berinti, C.Pp.S., Father Anthony Aarons, TOR, the superintendent and associate superintendents of Catholic Schools, and a parish director of faith formation.
"The focus of this standing committee will be to ensure the Catholic Identity and faith life of our schools," said Henry Fortier, secretary of education and superintendent of Catholic schools. "We put such a strong emphasis on the secular aspect of our children's education –  test scores, athletics, extracurricular activities – and  we strive to do the same for the spiritual side of their growth. This committee will seek ways to continually grow the faith lives of our children."
Fortier said the group has been charged with reviewing religion curriculum and data from the ACRE (national religion assessment) test as well as areas related to the formation and faith development of teachers and principals; assisting in planning leadership retreats and days of reflection; supporting continued collaboration between parish and school programs; and more intentionally coordinating charitable activities.
Father Phil Egitto, pastor of Our Lady of Lourdes Parish, Daytona Beach, said giving our children a solid foundation in their Catholic identity is important in the holistic formation of the child.
"Being Catholic and fostering Catholic identity affects the way we as Catholics live the Gospel," he said. "Our Catholic identity is the way we experience conversion and how we are in the world but not of the world. As Catholics, our 'personal relationship to Jesus' is only meaningful as it is lived out in the context of Church.
"We are called and we respond as a people," he continued.  "Recognizing that we are the body of Christ, we are humbled by the gifts God has given us. Our Catholic identity calls us to respond to God not for what we will get out of it, but because we are here to serve God knowing that our hearts will only rest when they rest in him."
Still, the children are not the only ones to benefit by the work of the new committee. Carol Brinati, chancellor for the Diocese of Orlando, said the diocese as whole is certain to benefit as well.
"The ministry of the School's Mission Effectiveness Committee addresses all of the Bishop Noonan's three priorities in a profound way; that is, it will enkindle a deeper faith in the hearts of the people we serve by bringing forth the importance of our faith," she said.  "Attending to enkindling a deeper faith will help to form leaders in Christ.  By this formation, the holy people of God will gather together to harmonize our ministries to the mission of the Church.  It is my hope that the effect of the committee's efforts will cross the boundaries of our schools into our parishes and the world at large."
Mission Effectiveness Committee Members:
Henry Fortier, Secretary of Education and Superintendent of Catholic Schools
Jacquelyn Flanigan, Associate Superintendent, Office of Catholic Schools
James Cooney, Associate Superintendent, Office of Catholic Schools
Father Anthony Aarons, TOR, School Chaplain, Bishop Moore Catholic High School
Father Ben Berinti, C.Pp.S., Director of Campus Ministry, University of Central Florida
Kimmy Zeiler, Director of Youth & Young Adult Ministry, Diocese of Orlando
Philip Gorassi, Principal, St. Brendan the Navigator Catholic School, Ormond Beach
Claudia Stokes, Principal, St. Joseph Catholic School, Palm Bay
Isabelle Fernandez, Director of Faith Formation, Holy Redeemer Parish, Lakeland
Thomas Burns, DCCP Instructor, Diocese of Orlando
Amanda Livermore, Director of Mission Effectiveness, Bishop Moore Catholic High School, Orlando
Bethany McBride, Campus Minister, Santa Fe Catholic High School, Lakeland
Dan Ensell, Director of Campus Ministry, Melbourne Central Catholic High School, Melbourne
Maria Gallo-Lethcoe, Director of Mission Effectiveness, Father Lopez Catholic High School, Daytona Beach
Anne Scanlan, Dean of Faith Formation and Spiritual Life, Trinity Catholic High School, Ocala
Mary Kate Wilkerson, Program Coordinator, San Pedro Spiritual Development Center
Carly Matthews, Manager of Mission Effectiveness, Catholic Charities of Central Florida