A holy, special delivery arrived at St. James Cathedral Tuesday, January 30. The long awaited Stations of the Cross artwork was flown in from Seville, Spain – and it is absolutely breathtaking.
Father Miguel Gonzales, Rector of the Cathedral, opened the packages with a huge smile on his face. "I kept thinking about the joy our parishioners will have as they get to prayerfully contemplate each station," Gonzales explained. "As well as, the reaction Fr. Martin Nguyen (Parochial Vicar) will have, since he played a big role in making this project a reality for our entire parish community."
The stations, created by design firm Granda, are designed to complement the existing wall murals. The company was founded in 1891 by a Spanish priest/painter in Madrid. Their mission is to quote "create art imbued with the scent of Christ, vibrant with the spirit of the Bible; art that is alive because it is rooted in tradition and drawing from the past, attends to the needs of the present."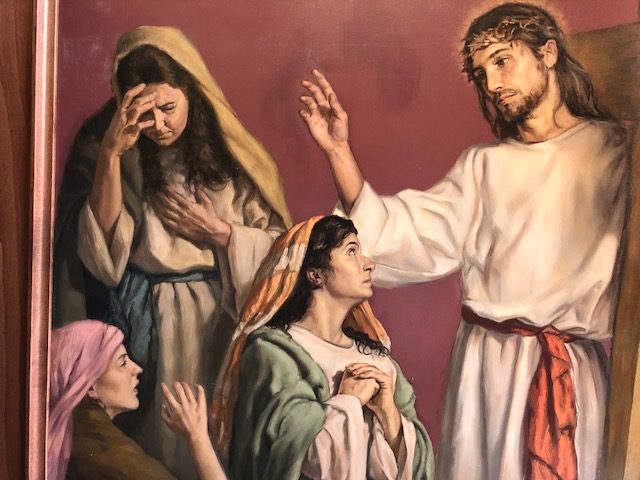 Secretary of Ecclesiastical Property for the Diocese of Orlando, Darryl Podunavac, was part of the team that helped make this dream come true. "The focus is on the human emotion that evokes empathy and prayer for those who will be meditating on the various scenes," he shared. "The colors needed to be light and bright without distraction from the seriousness of the images."
The artist first sent sketches to determine the style and number of characters in each scene.  These were reviewed by a committee.  Color renderings were then created to finalize the design before any paint hit the canvas.
Every single detail was considered, even down to the frames. They are based on the style of the Cathedral organ case to accent the existing wood and interior architecture. "Granda was selected because of their superior quality in the creation of Liturgical Art, and because of how they integrate Christian spirituality with the art itself," said Podunavac. "You can see the final product is striking in many respects. We look forward to them being mounted and blessed early in the Lenten Season."
By Jennifer Drow, Special to the Florida Catholic – February 1, 2018