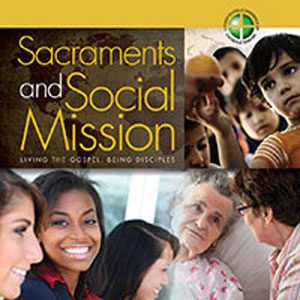 Connecting the Sacraments and Social Mission. Sacraments and Social Mission: Living the Gospel, Being Disciples – This 32-page, color booklet includes handouts on Baptism, Eucharist, Confirmation, Marriage, Holy Orders, Penance, and Anointing of the Sick, suggestions for use in a parish setting, and a guide for small group study sessions. Spanish. Preview the booklet here.
Concluding document of the Fifth Conference of the Bishops of Latin America and the Caribbean (CELAM) – Bergoglio, now Pope Francis, was one of the key figures who helped prepare the final document. He said, "the Aparecida document is not in itself a conclusion, it is not the final step. It opens up the way to the mission, the disciples' announcement and testimony."
Themes from catholic Social Teaching/Card. Also in Spanish.
Organized in the same order as the official Catechism of the Catholic Church the USCCA includes stories, doctrine, reflections, quotations, discussion questions, and prayers to lead the reader to a deepening faith. Quantity discounts available.
To Teach as Jesus Did: A Pastoral Message on Catholic Education – Discusses educational ministry to people of all ages and encourages planning and collaboration in developing educational programs.
God Gift of Forgiveness – the bishop's 'Pastoral Exhortation on the Sacrament of Penance and Reconciliation' includes on the reverse a guide on 'How to Go to Confession'. This exhortation was approved by the bishops in response to Pope Benedict XVI's New Evangelization efforts. (Package of 50 inserts)