UPDATE: Roman Missal, Third Edition Modification
Did you DOWNLOAD the Roman Missal, Third Edition pdf's in 2011 or 2012?
Download NEW pdf files with changes: Concelebration Cards' USCCB has NEW Downloads of Eucharistic Prayers II, III, and IV which insert the name of St. Joseph into the texts. More here.
The downloads are free.
Roman Missal, Third Edition stickers are also available for printed copies of the USCCB Roman Missal. Order online or call 800-235-8722.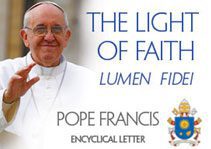 READY to DOWNLOAD in E-book format New Pope Francis' First Encyclical, THE LIGHT OF FAITH (LUMEN FIDEI) in paperback.
E-books are also available.
Catechetical Sunday recognizes Catechists on September 15; click here to order your Parish Resource.
USCCB Catechetical Sale (20% off). See all titles on sale & print circular to assist you in ordering. Use promo code "FAITH" on shopping cart to receive 20% off. This sale ends on September 30, 2013.