On April 16, at St. Joan of Arc Parish in Boca Raton, Bishop John Noonan ordained 14 men from St. Vincent de Paul Seminary as transitional deacons. Two of them, Edwin Cardona from St. Catherine of Siena Parish in Kissimmee and Juan Osorno from St. Isaac Jogues Parish in Orlando, will serve as priests in the Diocese of Orlando following their ordination to the priesthood in May 2017.
In his homily, Bishop Noonan thanked the parents for the gift of their sons' vocation, noting that families are the first teachers of faith. Both Osorno and Cardona concur.
Osorno, 42, was born and raised in Colombia, South America by devout Catholic parents. As a child he aspired to become a priest, but as a young adult, Osorno moved to the United States, worked in business and became an artist. However, the childhood aspiration never left him.
"I always felt the calling to be a priest," Osorno said. "I put it aside for years, until finally I came to the point where I couldn't say 'no' anymore."
Once he made the commitment, peace reigned.
"Nobody was surprised," Osorno said. "My family and friends kind of expected it."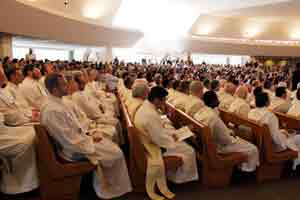 Cardona, 25, has different story. Although raised Catholic, he was not active in parish life.
"I attended public schools," he said. "I was never an altar server." When his family moved from New York to Central Florida, he missed receiving the Sacrament of Confirmation with his class.
Cardona did not consider the priesthood until high school, after the death of his beloved younger brother drove the family closer to the faith. That's when his parents enrolled Cardona in faith formation classes to prepare for the Sacrament of Confirmation. His teacher urged the students to consider not what they want to pursue in life, but, rather, what God wants them to do with their lives.
Cardona's faith began to soar.
Finally, at the suggestion of his parish priest, Cardona visited the seminary, and returned, announcing that he felt God was calling him to the priesthood.
"My parents said they'd support me and back me up," he said, "and they always have."
They were among the congregation filling St. Joan of Arc on the day of the transitional diaconate ordination. That day, Cardona arose with a feeling of anticipation. He visited the chapel, entered the church, and felt a flurry of emotion.
"I was entering into something I couldn't do for myself," Cardona said. "God was going to make me a deacon."
"I was full of excitement," Osorno said. "Seeing all those people there, it was very powerful. The Mass was very powerful."
Cardona agreed. "We knelt, stood, laid prostrate…the prayers, the litany of the saints; it was incredible," he said. "I could feel the support of family and friends, priests and even the saints in heaven."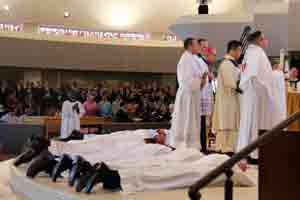 For both men, Bishop Noonan's homily hit home.
"As a deacon, you are called to serve, and not to be served," Bishop Noonan said. "Serve the people of God with love and joy as you would the Lord himself."
"The theme of servant resonated with me," Cardona said. He spoke of his classmates, who are quick to clean up the cafeteria or handle campus projects. "No one is looking for credit but we have a desire to serve. My prayer is to be faithful to that."
"Being a transitional deacon is all about service," added Father Jorge Torres, Vocations Director for the Diocese of Orlando. "They can perform Baptisms, wedding and funeral services outside of Mass. They can preach and bless articles."
"With Ordination, we become very special," Osorno said. "Not in the sense as the world sees it, but in the sense of being set apart for God. It's all for the glory of Him."
Cardona and Osorno will resume studies at St. Vincent de Paul Seminary in Boynton Beach and serve as deacons on weekends. Currently, Cardona is assigned to Ascension Parish in Boca Raton; Osorno will serve at Sacred Heart Parish in Lake Worth.