ORLANDO | It was a balmy night last Spring and Officer Keith Gibson was making his rounds in the Bishop Moore Catholic High School parking lot. The 30-year veteran officer for the Orlando Police Department was familiar with the routine. After all, he had worked security for Bishop Moore for the past 25 years. As cheers from a lacrosse game swelled in the night air, Gibson scanned the area for unusual activity. That's when he saw it. A car magnet that said, "IN NEED OF O+ KIDNEY." Beneath it was a phone number.
Gibson recalls thinking, "This is kind of crazy. Who tries to find a kidney via a bumper sticker or car magnet?" But it peaked his interest, so he wrote the phone number on a pad he had in his pocket. His night shift ended a few hours later and he forgot about the strange message, until a week later when he reached into his pocket, then made the call.
Angel "Roddy" Naranjo answered the phone. After hearing about how he was diagnosed with kidney disease four years prior, leading to three dialysis treatments per week for the past two years, Naranjo informed Officer Gibson that his kidneys were now only 5% operational. Without a transplant, he would die. He had been on the transplant list for a year before he began his do-it-yourself campaign in desperation. In one year, he received more than 75 calls. Some wishing him well. Suddenly Naranjo was hopeful. "It was incredible. It brings you back to believing there are still good people out there. I was in tears," he recalled.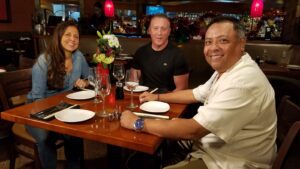 On the other end, Gibson hung up and thought, "I can't let Roddy die." Although Gibson's family was conflicted over the decision due to the risks, they decided that Gibson would proceed with the lengthy evaluation process. The first phase of qualification, a battery of blood tests, indicated he was a perfect match. "I about dropped the phone when I got the news," recalled Gibson. He was eager, but thought his chances of being eligible might be slim. The elation was short-lived. With a final trip to Tampa General Hospital, a CAT scan revealed an abnormal kidney. Although not a health threat for Gibson, it made him ineligible as a donor. "It was very upsetting, mentally, and spiritually. I've been healthy my whole life and donate blood every six weeks," said Gibson. "I was ready. When they told me that, I was devastated, crushed."
His next thought was the entire process was about to begin again. He chose to tell Naranjo the bad news himself, promising he would become Naranjo's advocate and help him find a donor. Naranjo was in shock. "I was back to square one," he said, but he was reassured by Gibson's promise. The local news station that initially reported the story, aired a follow-up on the situation. That's when Gibson made a plea for a kidney for Naranjo. Through Facebook, Twitter and word of mouth, one of Gibson's co-workers came forward, Officer Philip Scaglione. He mentioned his wife, Kristen Scaglione, was interested.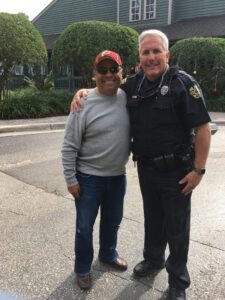 Kristen had seen a program on living organ donation a year earlier and was inspired to donate one of her kidneys. The marathon runner had completed her application to donate through Florida Hospital just one week before hearing of Naranjo's situation. "I knew she was going to be the one, after speaking to her," he said. "Her take was, I don't know why more people don't do this? We can save a life." They communicated via text and decided not to meet until they were certain about the outcome.
When they got the good news, Naranjo invited the Scagliones to dinner. Surgery was a week away, Dec. 12. "I knew that my life was going to change drastically. Now I had a second lease on life," said Naranjo. The surgeries went well and he and Kristen left the hospital just two and three days later, respectively.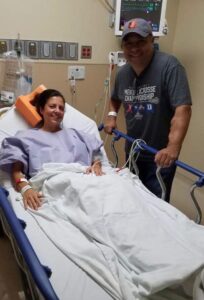 Naranjo said he feels 150 % better and stayed in Tampa for two weeks to ensure his body would not reject the new kidney. Doctors say Naranjo's living donor kidney will extend his life 18-25 years—double the expectancy of a kidney received from someone deceased. Naranjo, now 56, is ready for a long life ahead and looks forward to getting back to a normal life and, hopefully, playing his beloved soccer. He also committed to running at least a half marathon with Kristen once they both fully recover.
Gibson, Naranjo and Kristen were reunited earlier this month. "This (kidney) was the greatest gift ever," said Naranjo. The cradle Catholic said the experience will bring him back to Sunday Mass, acknowledging that he got "some kind of help from above." He has already begun promoting organ donation and education with the National Kidney Foundation.
Kristen was cleared to return to running just two weeks after surgery. She said she has no regrets. "I don't see myself as doing anything extraordinary. My goal was to give him something that was going to save his life and I just don't see myself as doing anything that everybody else should be doing that is capable and healthy. There was a need and I filled that need."
The whole experience has impacted Gibson profoundly. "I told my wife the morning of the surgery… I feel like I'm in the presence of God. Like I'm with Jesus." When asked how he felt about helping to save a life, he simply said, "If I could save his life, I gotta save it. Isn't that why we were put on this earth?  Isn't that what Jesus taught us? The bottom line of our religion is to help your fellow man and do good unto others. It's a no brainer." Gibson continues to pray for Naranjo's full recovery and is convinced that, "Everything happens for a reason." He added, "What are the chances that I'm working there that night and that vehicle is there with that bumper sticker? I believe God put me in that parking lot to see that bumper sticker and no one can convince me He didn't."
By Glenda Meekins of the Florida Catholic – January 9, 2019