"Looking back, we had so much hope that 2017 would bring us our baby boy," said Heather Martinez who with husband Lucio adopted their son, Ignacio, nine months ago. "So much joy, love and life came into our little world – our family. In 2018, we hope our family will continue to grow."
The couple knew when they married four years ago that adoption would be the way they would create their family.
"Adoption is a very emotional process," Lucio said, "a process of healing, knowing you can't have children biologically. It's an example of how Christ loves us – adoptive love – the joy and sorrow that come out of it – we've experienced from the very beginning."
Sarah and Sandeep Sharma have been married 14 years; they built a home with five bedrooms anticipating the many children God would send, but it wasn't until last September, that they welcomed their first child – Shaan Patrick.
"We went through all the medical therapies we could and after each failure we took time to heal," explained Sarah. "We kept trying, thinking if God wanted us to have a baby, He would give us one. After ten years, we started the conversation of would we be okay if we didn't have children and considered adoption."
"I have a son now," Sandeep said, "and it's a pretty big deal. Our families were here for Christmas – a full house. I was able to take leave from work and will begin 2018 caring for our son full-time while Sarah returns to work."
It is due to the efforts of Catholic Charities that two little boys are the focus of the New Year – the center of life in their adoptive families.
"Adoption is a journey of faith," said Leesa Elliott, Adoption Services Counselor for Catholic Charities of Florida. "Couples must do three things: pray, get prepared, and let God do his work."
Even arriving at Catholic Charities was a journey. The Martinez family investigated five agencies, but chose Catholic Charities because as Heather explained, "their focus was not on us or the birth mother, but what was best for the baby."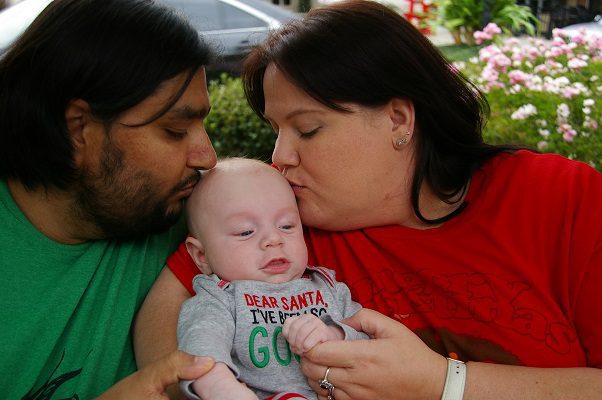 The Sharmas tried international adoption hoping for an orphaned child from India where Sandeep was born, but it fell through producing significant emotional and financial turmoil. They found adoption to be a business at several domestic agencies.
"At Catholic Charities, Leesa expressed everything that I was experiencing," Sarah said. "I remember her speaking to my heart."
Once the decision to trust Catholic Charities was made, the preparation process began.
"We started in January 2016," Heather said. "The home-study profiled us as individuals, a couple and prospective parents. It caused us to determine what focus in life and goals we had for a baby; how our own family life impacted who we are and how differently we were raised; what mistakes were made in our families and how we could raise a baby better through learning from those mistakes."
The home-study takes about six months, although it can be completed more quickly if necessary.
"Couples come in excited," Elliott said. "We want to reduce their fears and put as much joy and faith into a difficult process as we can. It's a very intense scrutiny to be judged capable of becoming parents, but the end result is a miracle."
Once profiles are completed, couples wait for birth mothers to select them as potential parents.
The Sharmas were selected for an interview, but the birth mother ultimately chose to keep her child. They were chosen again, but the mother selected another couple. Months passed, they renewed their home-study and in August, Elliott called saying a young pregnant mother had seen their online profile and wanted to meet with them.
"We were the only couple picked," Sandeep said. "We were excited, but guarded – reserved. Is this real?"
As part of the process, the decision must be made by both birth mother and adoptive couples as to the type of adoption: open – where adoptive parents and birth mother actively participate in the life of the child: closed – where there is no relationship once the adoption is complete or semi-open – where there are agreed upon specific ways in which participation will occur.
Both couples and birth mothers decided on semi-open adoptions.
"I think it will be good for Ignacio to know he is still loved by her – he is not abandoned," Heather said. "She kept thanking us, but we thank her for giving us this gift of life – we are appreciative of one another."
Both couples were present outside the delivery room when their sons were born.
"I was totally unprepared," Sarah said. "The nurse announced, 'Congratulations! You have a red-haired son!' I lost my mom in 2011 and it feels like she had something to do with this. She always wanted a grandson with red hair and blue eyes and he was to be named Shaan Patrick. Yes, Shaan Patrick has blue eyes."
"So many prayed for us," Sandeep shared. "Bishop Noonan and his staff donated a hamper full of baby items. We're getting amazing packages almost daily. Shaan Patrick is so very loved and will be baptized once the adoption papers are finalized. Sarah and I hope our story will motivate others to adopt and birth mothers will work with Catholic Charities for their babies. It was a very long wait, but we definitely are blessed."
The Sharmas are already planning their summer vacation to introduce their son to extended family and looking forward to Shaan Patrick's first birthday party.
"I have a different perspective now," Lucio said. "When I pray the joyful mysteries it helps me reflect more on my own life. St. Joseph took on such a responsibility so bravely without questioning God and I'm seeing myself with Ignacio helping him to become a man, a follower of Christ and bringing others to Christ. This New Year is very different – we're celebrating with our new child and looking forward to starting the process to adopt another child into our family."
By Laura Dodson Florida Catholic Correspondent – January 4, 2018