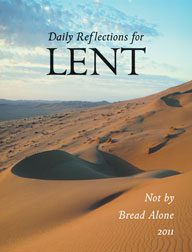 NOT BY BREAD ALONE – Daily Reflections for Lent 2011 by Bishop Robert F. Monrneau.
Find spiritual sustenance for the seasons of Lent in Bishop Morneau's reflections on the daily Mass readings. Not by Bread Alone offers insightful meditations that focus on Lenten themes of repentance and redemption, sacrifice and salvation – as well as the Easter promise of resurrection and new life. Order now!
Format available:
Find the format that's best for you. Order before Lent begins March 9.