Teachers Training to Serve P.I.E.!


Pictured from left to right: Amy Matzke, Jessica Gardella, Ann "Windy" Guidry, and Debbie Gum.
Congratulations to Lourdes Academy teachers Amy Matzke and Jessica Gardella, to Basilica School of Saint Paul resource teacher Ann "Windy" Guidry, and Holy Redeemer kindergarten teacher Debbie Gum for being accepted into the University of Notre Dame's Program for Inclusive Education! Their interest and participation show their commitment to continuous learning and to serving all children in their schools. All four plan to begin their work this summer.
P.I.E. certification includes a four-semester combination of online and ND campus experiences. The 18-credit hour training focuses on serving the many diverse needs of students. The Program for Inclusive Education envisions Catholic schools that are prepared to educate all children regardless of academic, behavioral, social, emotional, or physical need. We seek to equip Catholic schools with a culture, a foundation, and resources for inclusive education. We are excited to see how these teacher leaders apply their learning to serve the students of their schools!
Donuts for Dads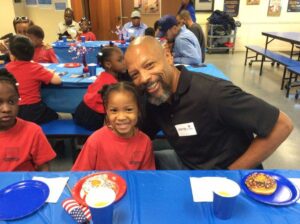 Pre-Kindergarten students at St. Andrew Catholic School hosted Donuts for Dads Day. The students were reminded to appreciate and thank those that love and serve them daily.
Future Firefighters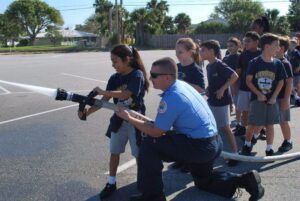 Lourdes Academy students enjoyed a visit from the Daytona Beach Fire Department! Lt. Tyree spoke to students about the importance of having an evacuation plan, meeting spot, and what to do if you're ever on fire (stop, drop and roll!!). Students toured the fire truck and were even able to use the 50 foot line to spray some water!
Caring for Community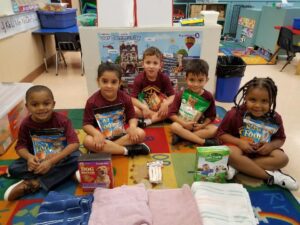 Basilica School of St. Paul collected food, treats, and towels for the dogs and cats at the ARNI Foundation. The ARNI foundation is a 501(C)3, non-profit organization dedicated to the rescue of animals at local kill shelters, and the rescue of abuse & cruelty cases. Way to go VPK!
Make Your Mark!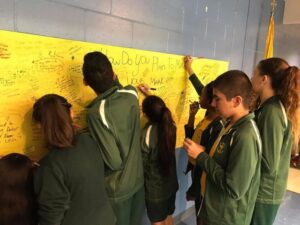 During National Beta Week, Holy Redeemer students pledged to make a positive mark in the world! Many students pledged to serve others through their aspired professions, some through obtaining good grades, and others through spreading the word and love of God. How will you make your mark?