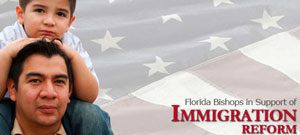 Bishop Noonan asks that parishes avail Florida bishops' statement on comprehensive immigration reform through parish announcements, on-line links, etc. and encourage prayer for our legislators and brothers and sisters whose lives remain in the balance as our legislature considers immigration reform.
Catholic Bishops of Florida Issue Statement in Support of Immigration Reform; Tell Parishioners 'Now is the Time to Act'
Tallahassee, FL – After several years of supporting immigration reform, the Catholic Bishops of Florida urge the faithful to contact the 113th Congress in support of just and compassionate immigration legislation. This month, the United States Senate begins floor debate on S. 744, and the House is preparing to release their immigration legislation in the House Judiciary Committee. A joint statement by Florida's seven bishops has been sent to all parishes in the state.
In their statement, the bishops stress the need to act now to amend our nation's immigration laws to safeguard the dignity and humanity of our migrant brothers and sisters. "Congress has the best opportunity in almost 30 years to pass immigration reform. This is a historic moment in our country. As Americans, we cannot let this moment pass," state Florida's bishops.
The bishops ask that provisions in proposed legislation:
Provide a path to citizenship for undocumented persons in the country;
Preserve family unity by reducing backlogs and waiting times for family reunification;
Protect vulnerable populations including refugees, asylum seekers and unaccompanied children;
Address the root causes of migration, such as persecution and economic disparity.
Editor's Note: It is expected that the full U.S. Senate will begin debate on their bill on June 10, while the House version will be introduced as early as next week.
Downloads: