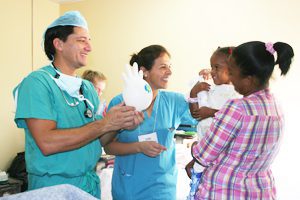 For one week in November, Patty Cummings (pictured in center) traded her day job as a registered nurse at Greystone Health Care Management in Lady Lake to work as a volunteer nurse more than 1,000 miles away.
"This is what I need to do and what I want to do," said Cummings, a member of St. Paul Parish in Leesburg. "I love it. I have been a nurse for 30 years, and patient care is what it is all about."
Cummings was among the 60 doctors, nurses and translators that participated in the November surgical missions at Hospital Alejandro Cabral, located within the sister Diocese of San Juan de la Maguana in the Dominican Republic. Each November, the Diocese of Orlando offers two surgical missions. Two groups participated in this year's mission – the first group from Nov. 3-10, and the second group from Nov. 10-17.
Doctors performed surgeries ranging from hernia and thyroid operations to cancer treatments. Nurses provided medical attention and comfort to the patients, while others translated conversations between the patients and the doctors and nurses. Nearly 100 surgeries – many of which were minor operations – were performed during the second week of the mission alone.
"The mission is answering the call of the Gospel to be present to people," said Ursuline Sister Bernadette Mackay, director of the Diocese of Orlando Mission Office. "The presence is real, engaging, inviting, welcoming.
"So much attention is given to the people before surgery and after surgery," Sister Mackay added. "Everyone is an individual, and every patient leaves someone with a story they never thought they could know. Every story is different."
During her visit, Cummings – who has now participated in two missions – was assigned as a recovery room nurse, monitoring and assessing patients and making sure that there were no complications from their surgeries. She said her limited Spanish went a long way with the patients, and that every patient she encountered showed happiness and bravery despite their struggles. Among those patients were two women, Portofina and Feridia, who had mastectomies. Cummings said the courage the women demonstrated and the gratefulness their family showed, in a way, transformed her own life.
"These two surgeries were the most life-changing of the patients who were operated on and the outlook from these patients was so positive," Cummings said. "Their journey showed me that life has many bumps, but it is how you patch the road and pass by that count. Journeys take many roads and I was so pleased that the Lord chose me to be a part in these two women's journey."
Cummings, who is already planning on participating in next year's surgical mission, said the missions are faith-filled experiences for her and other volunteers because they see the face of Christ in those they serve.
"The patients were so compassionate, and they knew that God was giving them peace," Cummings said. "There was hope, there was always hope."