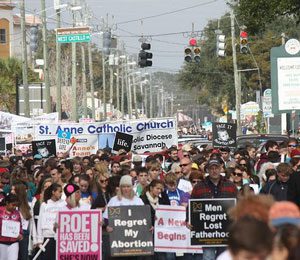 March for Life St. Augustine! Register Now to Stand up for Life in Florida!
Every year since 2007 thousands of pro-lifers from all over Florida have met in our nation's oldest city, St. Augustine, to defend the dignity of human life. Please join our group this coming January 18 in standing up for the unborn. We will have two buses from our diocese going up to St. Augustine on January 18th for the march. The keynote speaker this year is Dr. Theresa Burke Founder of Rachel's Vineyard – the largest post abortion ministry in the world. For more information visit http://www.marchforlifestaugustine.com/ and to register please call Alejandro Luciano at 407-246-4819 or email aluciano@orlandodiocese.org and write "March for Life FL" in the subject line. See our flyer for more information.
9 DAYS FOR LIFE – Pray with the bishops to end abortion January 18-26 as our nation marks the 41st anniversary of Roe v. Wade.
Support the Long-term Unemployed as They Search for Decent Work!
Over one million jobless Americans lost a vital source of support at the end of 2013 when Congress failed to extend the Emergency Unemployment program.
Unless Congress extends emergency unemployment, millions more will lose this financial lifeline over the course of the year. Call your Senators and Representative and ask them to protect extend this vital assistance.
Blessed John Paul II, in Laborem Exercens, called unemployment an evil and said during times of economic pain and high unemployment, there is a moral obligation to ensure unemployed workers and their families have a basic level of security.
Last month Archbishop Thomas Wenski, Chairman of the Committee on Domestic Justice and Human Development at the U.S. Conference of Catholic Bishops, commended Congress for reaching a bipartisan agreement to relieve a certain amount of the sequestration budget cuts. He expressed disappointment that emergency unemployment was not included in the final agreement, adding, "The recent welcome decline in unemployment levels hides the reality that millions of long-term unemployed workers continue to suffer from an economy that does not produce enough decent work. For most of these families, jobless benefits are the only source of support." (http://www.usccb.org/news/2013/13-242.cfm )
Call your Senators and Representative to protect long-term unemployed workers and their families by funding Emergency Unemployment Compensation!
Thank you for your advocacy and work on behalf of justice!
Conscience Protection Legislation Still Needed!
The Obama Administration's contraceptive/abortifacient/sterilization mandate begins to be enforced against nonprofit religious schools, charities and health care providers on January 1, 2014. Congress must address this problem without delay. Members should be urged to co-sponsor the Health Care Conscience Rights Act (H.R. 940. S. 1204) and work for its approval as part of 'must-pass' bills or other legislation. The NCHLA ActionAlert on this matter has been updated. Please see: nchla.org/actiondisplay.asp?ID=292. Please do what you can to encourage people to contact their Representatives and Senators. Currently Congress is working to pass an Omnibus Appropriations bill for fiscal year 2014 by January 15.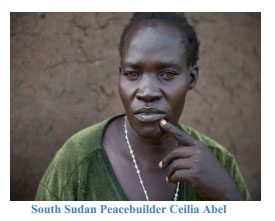 Crisis in South Sudan, a Report from Catholic Relief Services
Two years ago, many of us prayed and advocated in solidarity with the people of Sudan for the peaceful creation of the world's newest nation—South Sudan. Today, that remarkable accomplishment is threatened by widespread internal violence. Click here to find an update on the crisis and learn what you can do. CRS is grateful for your continued support and prayers and appreciate all you do for our brothers and sisters around the world. Link for Report: http://uspartners.crs.org/emergency/south-sudan-1-2-14.pdf
Fair Trade Winter Sale from SERVV!
Shop over 200 items that are 30% off in our new Winter Sale! Every purchase helps artisans around the world live with dignity and hope for the future. As always, our artisan partners have already been paid in full. Click here for catalog!