Helpers' Mass and Rosary Procession Saturday March 1
The next Helpers' Mass and Rosary procession will be held at St. Augustine Catholic Church (375 North Sunset Dr., Casselberry) on Saturday, March 1, 2014 beginning with Mass at 9am. After Mass we will drive to Life Choices Crisis Pregnancy Center (600 E. Altamonte Drive, Suite 1200 Altamonte Springs, FL 32701) and start our procession to the local abortion clinic while praying the Rosary peacefully. After the procession a new ultrasound machine will be blessed at the Crisis Pregnancy Center. The acquisition of this ultrasound machine was made possible by the Knights of Columbus Ultrasound Initiative. Please join us in praying for the protection of human life. For more information, contact the Office of Advocacy and Justice; 407-246-4819; advocacyjustice@orlandodiocese.org.
40 Days for Life
Don't forget that our Orlando 40 Days for Life Campaign will Kick-off with a rally on Monday, March 3rd, 5:30–6:30pm, right there where we will be praying during the 40 Days of Lent at Planned Parenthood, 726 S. Tampa Ave, Orlando. Tell everyone about it. You can register to participate in the Orlando vigil here or for the Lakeland vigil here.
Stand4Life-May 3rd
As Stand4LIFE goes into high gear, it is our responsibility and calling to speak for those who cannot speak for themselves. If you have been feeling God tugging at your heart over the sacred life of the unborn, this is your opportunity to answer the call.
Stand4LIFE is more than an event — it is a call for all of us to pray for the protection of human life. As we stand together on May 3, we are not only standing for life — we are standing for love. Read more.
Catholic Charities Adoption Services
Women facing an unexpected pregnancy are unsure or do not know about the loving option of adoption. Catholic Charities has been assisting pregnant women and providing adoption services since the 1940's. We educate women about the selfless option that puts them in control and allows them to choose a family and ensure a long term care plan for their child. Adoption is a life affirming option for her and her baby.
Pregnancy and Adoption Services in the Diocese of Orlando service area is provided through the collaborative efforts of Catholic Charities Central Florida, Catholic Charities Diocese of St. Petersburg and Catholic Charities Diocese of St. Augustine.
Brevard, Orange, Osceola, Polk and Seminole Counties please call 800-731-5480. Lake, Marion, Sumter and Volusia Counties please call 866-901-9647
CRS Updates
Top Church Officials Visit CRS' Typhoon Haiyan Recovery Efforts
CRS President Carolyn Woo has just returned from the Philippines, where she joined Archbishop Joseph E. Kurtz of Louisville, KY, president of the U.S. Conference of Catholic Bishops, and Archbishop Paul S. Coakley of Oklahoma City, OK, chairman of the CRS board, as part of a delegation that toured areas affected by Typhoon Haiyan. They met with officials of the Catholic church of the Philippines and visited areas where CRS' work is transitioning from emergency relief to longer term recovery efforts.
For more on the delegation visit: http://newswire.crs.org/daily-summary-u-s-delegation-philippines/. For a Catholic News Service story on CRS building transitional shelters: http://newswire.crs.org/temporary-homes-next-step-recovery-typhoon-ravaged-philippines/ Picture: Members of the delegation pose together with CRS staff outside the temporary office in Palo, Philippines. Photo by Laura Pohl for CRS.
Pope Francis Renews Call for Peace in Syria
As Pope Francis urged delegates at a peace conference in Switzerland to find a solution to the continued fighting in Syria, CRS President Carolyn Woo was interviewed on the PBS program Religion and Ethics Newsweekly about CRS' ongoing efforts to help those affected by the violence: http://newswire.crs.org/pbs-reports-on-syrian-refugees-includes-interview-with-carolyn-woo/.
Seasoned South Sudan Staffer Reflects on Recent Violence, Need for Healing
Tom Purekal has spent years with CRS in South Sudan, the world's newest country whose fragile independence is threatened by violence. Tom is part of the CRS staff working with Church partners to try to restore peace. He reflects on the recent violence: http://newswire.crs.org/seasoned-south-sudan-staffer-reflects-on-recent-violence/
"The Danger of Indifference:" Calling Attention to Central Africa Republic
"The people of CAR need our help. We cannot turn away from what is happening here – it cannot be ignored. …This beautiful country and its people need – and deserve – our help." – CRS Country Director, Renee Lambert
CRS continues to assist thousands displaced by ongoing violence and insecurity in Central African Republic (CAR), many of them taking refuge in Church compounds throughout the country. In the diocese of Bossangoa, CRS is supporting its Caritas partner with assistance in camp management, as well as the provision of food and other essential items to more than 40,000 people who have sought refuge at the Catholic Mission there. In the southeastern parts of CAR, CRS is working with communities on conflict resolution. In the capital, Bangui, CRS supports youth leaders to establish anti-violence youth groups to help promote peace and reconciliation among different faith groups in camps and volatile neighborhoods. CRS stands by both Christians and Muslims in CAR, many of whom look to their faith as a source of strength, endurance and hope for peace:http://faithworks.crs.org/central-african-republic-plea-peace/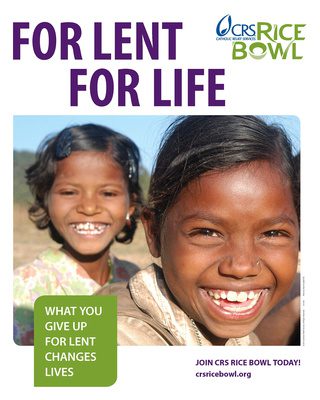 CRS Rice Bowl During Lent
CRS Rice Bowl is Catholic Relief Services' Lenten faith-in-action program for parishes, schools and families. The program invites Catholics to live in solidarity with our poorest and most vulnerable brothers and sisters through the three Lenten pillars of praying, fasting, and almsgiving. Participants journey throughout the forty days of Lent with the daily reflections included in the Lenten Calendar, offering small, suggested sacrificial gifts to fill their Rice Bowls as they read and watch Stories of Hope from individuals and communities whose lives have been changed by CRS Rice Bowl contributions. Since 1975, Catholics have been using CRS Rice Bowl to meditate on the love Jesus Christ demonstrates in His Passion and Resurrection and to imitate Jesus' love for the world through concrete, sacrificial giving to our brothers and sisters in need.
Coalition of Immokalee Workers "Now is the Time" Tour
The CIW's 10-day, 10-city "Now is the Time" tour around the Southeast is fast-approaching. The call to Publix and Wendy's to commit to uphold farmworkers' human rights by joining the Fair Food Program will grow even stronger with your continued support!
Join for any of the stops along the way, and check out more details on the action website.
The culminating witness of the tour will be a powerful 24-hour vigil outside of the Southgate Publix in Lakeland, FL from Friday March 14 to Saturday, March 15, followed by a spirited march to the final rally in downtown Lakeland.
Raise the Minimum Wage! It's a Matter of Justice
By Fr. Fred Kammer, S.J.
The Fair Minimum Wage Act of 2013 (FMWA) would raise the minimum from $7.25 to $10.10 over three years and then index it to inflation. Why? The minimum wage has declined in value measured against inflation, average U.S. wages, U.S. productivity, and the poverty line. A parent working full-time year-round at minimum wage cannot keep the smallest family (one parent, one child) above the poverty line. [1]
Opponents claim that the number of minimum wage workers is small (3.7 million), most are young and part-time, and "relatively few of them live below the poverty line."[2] The argument is misleading. First, FMWA will affect not just current minimum wage workers, but 16.7 million workers earning less than $10.10. Another 11.1 million workers would benefit indirectly from the "ripple effect" of employers adjusting overall pay ladders. Of these 27.8 million, 55 percent are women, 88 percent are at least 20 years old, 54 percent work full-time, 26.5% are parents, and the average worker earns half of his or her family's total income. [3] Further, between 1979 and 2011, the "share of low-wage workers (those earning less than $10 per hour in 2011 dollars) aged 25 to 64 grew from 48 percent to 60 percent…"[4] Read more.
News from the Catholic Mobilizing Network to End Use of the Death Penalty
CMN Lenten Resources Available
CMN Welcomes New Program Assistant: Eddie Guers
Stories of Prayer, Forgiveness and Mercy Are Coming In!
Update from Sister Helen Prejean and the Dead Man
Walking Play Project
Catholic Charities USA Responds to Immigration Proposal
In response to the announcement of standards for immigration reform issued by leaders in the House, Catholic Charities USA's president, Fr. Larry Snyder, released the following statement on the proposal:
"Catholic Charities USA is encouraged by the House leadership's willingness to continue to take a step to address the plight of immigrants. While the principles do not include a path to citizenship, we believe that this is a step towards enacting just and fair immigration policy." To read the full statement, visit Catholic Charities USA's press room, and to learn more about CCUSA's advocacy efforts on this important issue, see our Advocacy page.