Execution Update and Prayer Alert
On February 26, Paul Howell, is scheduled to be executed at Florida State Prison, in Starke, Florida. Your parish is encouraged to continue to pray for Mr. Howell, his victims, his family, the victims' family; for all the public officials involved in this scheduled execution; for Governor Scott, that he will discern God's will and apply the teachings of our Catholic faith on the death penalty. Please contact Governor Scott to voice your concern. Parishes are encouraged to participate in prayer services at the parish or to attend a prayer service at the execution site in Starke. A bus will be leaving from the parking lot of Our Lady of Lourdes 201 University Blvd, Daytona Beach, 32118, at 2:30pm. A prayer service will be held at St. Patrick's Church in Mt. Dora at 3pm. For more information on the prayer service, contact the Office of Advocacy and Justice, advocacyjustice@orlandodiocese.org or 407-246-4819.
Helpers' Mass and Rosary Procession Saturday March 1
The next Helpers' Mass and Rosary procession will be held at St. Augustine Catholic Church (375 North Sunset Dr., Casselberry) on Saturday, March 1, 2014 beginning with Mass at 9am. After Mass we will drive to Life Choices Crisis Pregnancy Center (600 E. Altamonte Drive, Suite 1200 Altamonte Springs, FL 32701) and start our procession to the local abortion site while praying the Rosary peacefully. After the procession a new ultrasound machine will be blessed at the Pregnancy Center. The acquisition of this ultrasound machine was made possible by the Knights of Columbus Ultrasound Initiative. Please join us in praying for the protection of human life. For more information, contact the Office of Advocacy and Justice; 407-246-4819; advocacyjustice@orlandodiocese.org. Picture: A new ultrasound machine donated by Massachusetts Knights to Worcester's Problem Pregnancy Inc. was blessed by state chaplain Bishop Daniel Reilly in January. Shown are (left to right) sonographer Kathy Lake, Bishop Reilly, Deacon Joseph Baniukewicz, State Deputy William Donovan and State Advocate Thomas McGinn.
Coalition of Immokalee Workers (CIW) Announces Major Action!
Ten-day, ten-city "Now is the Time" tour, March 5-15, to hit NC, OH, KY, TN, GA, FL!
Start preparing to join us on March 14-15 in Lakeland, FL; details to follow!
The Truth Tour that began it all…
Some fourteen years ago, when the Campaign for Fair Food launched and two buses full of farmworkers set out from the dusty town of then-obscure Immokalee on the first ever Taco Bell Truth Tour, they were leaving an industry mired in grinding poverty, rampant wage theft, unaddressed sexual harassment. Considered by their supervisors to be disposable and disenfranchised, the workers crisscrossed the nation with their vision — and headed toward the largest fast food corporation in the world.
But for all that they lacked in rights, lacked in pay, lacked in recognition for the tremendous fruits of their grueling labor, what the united crew of workers held was more powerful than the profits and persuasion of any multi-billion dollar corporation whose practices made them poor.
Truth that farmworkers, when united with other people of faith and conscience, could see that vision to fruition.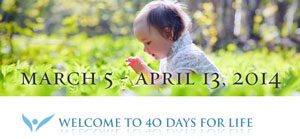 40 Days for Life Campaign Comes to Orlando!
40 Days for Life is a focused pro-life campaign with a vision to access God's power through prayer, fasting, and peaceful vigil to end abortion. The mission of the campaign is to bring together the body of Christ in a spirit of unity during a focused 40 day campaign of prayer, fasting, and peaceful activism, with the purpose of repentance, to seek God's favor to turn hearts and minds from a culture of death to a culture of life, thus bringing an end to abortion. This is a major simultaneous pro-life mobilization with others praying, not only locally, but nationally from coast to coast and internationally as well. It's making an amazing difference with outstanding measurable lifesaving results. Go to www.40daysforlife.com/Orlando.html.
There will be a prayerful vigil presence in front of Planned Parenthood of Greater Orlando from 7am to 7pm daily for 40 days during Lent.
To sign up for a time slot online, just go to the website and register. Above the site map is a link that says "vigil schedule". Click on that and you will be able to see what times and slots need filling.

Catholic Days at the Capitol March 25-27
Join Catholics from across Florida as they gather in Tallahassee for Catholic Days at the Capitol, March 25-27, 2014. This annual event provides an opportunity to put into action our faith's call to political responsibility and gives Catholics a voice in shaping our state laws.
Activities include:
A legislative briefing on policy issues affecting human life and dignity
Pre-scheduled meetings with elected officials
Group photos of each diocesan delegation with their bishop
A luncheon for Catholic Days participants, Florida's bishops and legislators
39th Annual Red Mass of the Holy Spirit celebrated by the bishops of Florida to pray for those working in the legislative, judicial and executive branches of government
Registration forms and contact information for diocesan coordinators are available on the web site of the Florida Conference of Catholic Bishops at www.flacathconf.org/CDAC.
Pre-Registration is required. Call 407-246-4819 to register!
Advocacy Update
Unemployment Insurance Extension Fails to Clear Procedural Hurdle in Senate
A proposal to extend benefits for the long-term unemployed came up one vote shy of passing a key procedural hurdle on Thursday, leaving the passage of a three-month extension of unemployment insurance in doubt. The package failed as new unemployment numbers showed the number of long-term unemployed remaining relatively unchanged at 3.6 million Americans.
The bill would have extended emergency unemployment benefits enacted during the recession, which provide up to 47 weeks of supplemental payments to those struggling to find work. An estimate 1.7 million Americans have been affected by the expiration of the expanded program. Click here to see the number of those who lost benefits in your state (resource courtesy the National Employment Law Project.)
Farm Bill Passes Senate, Signed Into Law
President Obama signed a five-year extension of the farm bill on Friday in a ceremony at Michigan State University, hailing the bi-partisan deal as a "Swiss army knife" that will provide funding for agriculture and anti-hunger programs and environmental research.
The $956.4 billion package, of which approximately 80 percent will go towards the Supplemental Nutrition Assistance Program (SNAP, formerly known as food stamps.) The final bill reduced funding by about $8 billion from the program by tightening eligibility requirements, a move that is expected to reduce benefits for 850,000 households nationwide, according to the Congressional Budget Office.
House Speaker Sees "Difficult" Path Forward for Immigration Reform
In remarks last week, Speaker of the House John Boehner sought to temper expectations about the possibility of immigration reform legislation in Congress this year.
While Boehner has supported efforts to find bi-partisan agreement on immigration principles, his comments, following similar words from the Senate Minority Leader, illustrated the difficulty of passing reform components in an election year.