News from the USCCB
News from Catholic Relief Services
Stewards of the Earth
Pope Francis on Creation Care
In his 2014 Address to the Diplomatic Corps, Pope Francis addressed creation care and environmental concerns. He said:
Finally, I wish to mention another threat to peace, which arises from the greedy exploitation of environmental resources. Even if "nature is at our disposition", all too often we do not "respect it or consider it a gracious gift which we must care for and set at the service of our brothers and sisters, including future generations". Here too what is crucial is responsibility on the part of all in pursuing, in a spirit of fraternity, policies respectful of this earth which is our common home. I recall a popular saying: "God always forgives, we sometimes forgive, but when nature – creation – is mistreated, she never forgives!"
In addition, he also recalled the consequences of environmental disasters, saying We have also witnessed the devastating effects of several recent natural disasters. In particular, I would mention once more the numerous victims and the great devastation caused in the Philippines and other countries of Southeast Asia as a result of typhoon Haiyan.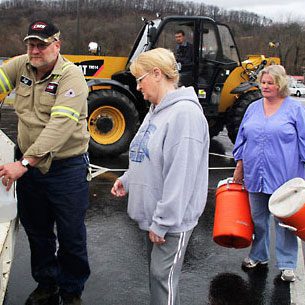 Bishops on Coal Chemical Spill and Drought; CAFOD on Climate
Bishop Michael J. Bransfield of Wheeling-Charleston, West Virginia asked the state's Catholics to join him in praying for the 300,000 people affected by the Jan. 9 chemical spill in the southern region of the state. The chemical that spilled into the water supply is used to wash coal after it is mined, and Glenmary Fr. John Rausch said that such spills are not uncommon in mining communities. Pictured Right: Residents fill containers with water at an emergency distribution center in Poca, W.Va., Jan.11. A federal disaster declaration has been issued for a West Virginia chemical spill that may have contaminated tap water and prompted officials to order residents in nine counties not to use tap water to bathe, brush teeth or wash clothes. (CNS photo | Lisa Hechesky, Reuters)
Meanwhile, California bishops have called for Catholics and people of all faiths in the state to pray for precipitation [ … ] The prayer for rain came as the Golden State braces for its third straight year of lower-than-normal rainfall.
Finally, CAFOD (official Catholic aid agency for England and Wales) reports that it will host climate change event at Parliament in Great Britain. The event will bring together MPs, Peers, researchers and NGOs on January 28 for a panel discussion about climate change and its impacts on development.
Fossil Fuel Divestment
Georgetown University and GreenFaith
While not taking a position on the issue of divestment, the Coalition is nonetheless following the debate, particularly on college campuses. In a recent article in The Hoya, Georgetown University's student newspaper, sophomore Caroline James writes about her experience working with GU Fossil Free and the GUSA senate to pass a resolution in favor of the university's divestment from fossil fuels. The resolution passed 17-6, and is similar to a resolution that was passed 17-1 last year by the UGBC Senate at Boston College.