Scheduled Execution Prayer and Action Alert Update
On February 12, Juan Chavez, is scheduled to be executed at Florida State Prison, in Starke, Florida. Your parish is encouraged to continue to pray for Mr. Chavez, his victims, his family, the victims' family; for all the public officials involved in this scheduled execution; for Governor Scott, that he will discern God's will and apply the teachings of our Catholic faith on the death penalty. Please contact Governor Scott to voice your concern. Parishes are encouraged to participate in prayer services at the parish or to attend a prayer service at the execution site in Starke. A bus will be leaving from the parking lot of Our Lady of Lourdes 201 University Blvd, Daytona Beach, 32118, at 2:30pm. A prayer service will be held at St. Patrick's Church in Mt. Dora at 3pm. For more information on the prayer service, contact the Office of Advocacy and Justice, advocacyjustice@orlandodiocese.org or 407-246-4819.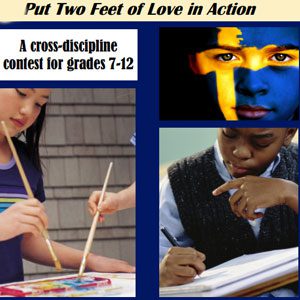 Youth Arts Contest 2014!
Educators lead participants through 5 easy steps to learn about U.S. poverty, CCHD's response, and the Two Feet of Love in Action. Visit the contest materials, or call the Office of Advocacy and Justice for details and ways teachers can meet their class objectives through the implementation of the art project. Call 407-246-4819 or email: advocacyjustice@orlandodiocese.org for more information. DEADLINE is March 1, 2014.
Catholic Days at the Capitol, March 25-27, 2014, Register Today!
Catholics from around the state gather in Tallahassee to participate in Catholic Days at the Capitol. Participants attend a legislative briefing on human life and dignity issues prior to meetings with elected officials. Included in the activities is a luncheon for participants, the bishops of Florida and state legislators. Participants are also invited to the annual Red Mass of the Holy Spirit con-celebrated by the bishops of Florida. Most Reverend Gregory Parkes, Bishop of the Diocese of Pensacola/Tallahassee (formerly a priest of the Orlando Diocese) will be the Homilist for the Red Mass. Attended by state officials, lawmakers, judges, members of the legal profession and the community, the Red Mass is celebrated to pray for those working in the executive, legislative and judicial branches of government. For more information and to register please see our flyer here. See flyer and registration.
This Valentine's Shop Fair Trade!
Give the gift of love to the many men and women artisans that work hard to make beautiful and unique products that help life their communities out of poverty. Check out their catalog!
Advocacy Efforts
Support No Taxpayer Funding for Abortion Act (H.R. 7)
On January 15, the House Judiciary Committee approved the No Taxpayer Funding for Abortion Act (H.R. 7) and the House is preparing to vote. Please click on the link below and urge your Representative to support H.R. 7!
https://www.votervoice.net/link/target/nchla/JM47JqE27.aspx
The No Taxpayer Funding for Abortion Act would place in permanent law a consistent policy that the federal government should not use tax dollars to support or promote elective abortion. Since 1976 this principle has been embodied in the Hyde amendment to annual appropriations bills funding the Department of Health and Human Services (HHS), and in numerous similar provisions governing a wide range of domestic and foreign programs. There has long been popular and congressional agreement in favor of this policy.
World's Largest Retailer to Join Groundbreaking Fair Food Program; Commits to Work with CIW to Expand Fair Food Program Beyond Florida and To Other Crops
On January 16, Walmart and the Coalition of Immokalee Workers signed an historic agreement for the world's largest retailer to join the CIW's Fair Food Program, the widely-acclaimed social responsibility program that is bringing real, measurable change to the men and women who harvest tomatoes for Florida's $650 million tomato industry. As part of the agreement, Walmart will work with the CIW to expand the Fair Food Program beyond Florida and into "other crops beyond tomatoes in its produce supply chain." Read more.
Environmental News
Catholic Ecology Reviews 2013
At the blog Catholic Ecology, William L. Patenaude has listed and commented on the top ten Catholic environmental stories of 2013. The list includes the publication of Environmental Justice and Climate Change: Assessing Pope Benedict XVI's Ecological Vision for the Catholic Church in the United States which includes essays from the 2012 Covenant-sponsored scholars' conference.
Melting Ice, Mending Creation
Feast of St. Francis Programs Are Still Available
St. Matthew Catholic Church in Corona, CA, is conducting a Melting Ice, Mending Creation program on Saturday, January 11. The local newspaper, the Press-Enterprise in Riverside, highlighted the event. The purpose of this is to bring awareness to this issue and shed light on the importance of climate change — but from a Catholic perspective, said Rick Fochtman, a parishioner. He said to the reporter: My big goal for this is to simply start the conversation. If we get 100 people at this event and 50 go home and do research on their computer, we've scored a major victory. The Catholic Coalition on Climate Change is pleased to offer this program year-round as well as the 2012 program focused on the plight of the Carteret Islanders and featuring the film, Sun Come Up. For more information, visit our website or write us at info@catholicsandclimatechange.org.