Click here for a calendar of events already published in escroll.
Catholic Living Will; a Declaration on Life and Death, February 15
Do you have questions about Advance Directives or Living Wills?
Have you been asked to provide such a document before admission to a hospital?
Does the issue of assisted suicide leave you confused about Church teaching?
Would you know what to do if your parents consult you about a Living Will?
Come join us on Saturday February 15, 2014 9 a.m. – 12 p.m. at St. John Vianney Catholic Church (6200 S Orange Blossom Trail, Orlando) to learn the answers to these questions. For information contact: Donna D'Ambrosio 407- 855-5391 Ext. 304 ddambrosio@sjvorlando.org
Quote of the Month from Pope Francis
"Money must serve, not rule! The Pope loves everyone, rich and poor alike, but he is obliged in the name of Christ to remind all that the rich must help, respect and promote the poor. I exhort you to generous solidarity and to the return of economics and finance to an ethical approach which favors human beings" (Joy of the Gospel, 38).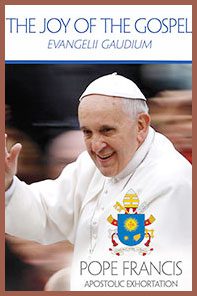 Pope Francis' The Joy of the Gospel
Pope Francis' new Evangelii Gaudium, or The Joy of the Gospel, "outlines the Pope's vision for a missionary Church, whose 'doors should always be open'. The Pope speaks on numerous themes, including evangelization, peace, homiletics, social justice, the family, respect for creation, faith and politics, ecumenism, interreligious dialogue, and the role of women and of the laity in the Church."Read the entire summary by Vatican Radio. Help share this exciting message from Pope Francis! You can read the text here, or download it as a pdf. You can also order a hard copy from USCCB Publishing. Also available: notable quotes selected by Catholic News Service.
Poverty Awareness Month: Activity Calendar
For Poverty Awareness Month in January, use this new calendar with daily suggestions for reflection, learning and action about poverty. Re-post the daily Twitter-length suggestions on social media to help get the word out about poverty and its root causes. Access the calendar.
Open Your Hearts to Life video
This new video from the USCCB Secretariat for Pro-Life Activities shows Pope Francis' joyful embrace of vulnerable persons, including those who are sick, poor, elderly, and unborn. The one-minute video uses clips from Vatican TV and is available in English and Spanish. View it here.
Advocacy Efforts
Farm Bill Update
Farm bill negotiators conceded Tuesday that they will not finish their work before Congress goes home for the year. However, they insisted that they are close to a final deal and working toward floor action in early January. The next few days remain pivotal as lawmakers wait on final scores from the Congressional Budget Office related to the commodity title.
Last year at this time when Congress had to extend the old farm bill due to inaction, the House and Senate are now in conference trying to reconcile two actual bills into a final product. Agriculture Committee leaders issued statements expressing confidence they can do so in January. Read more at Politico.com.
Help Protect Food Stamps
As Congress works to finalize agreement on the Farm Bill, raise your voice to ensure that SNAP benefits are protected in order to feed and protect poor, hungry and vulnerable people and ensure that farmers, ranchers and rural communities receive the support they need to thrive. Take action here.