Scheduled Execution Prayer and Action Alert
On December 3, Askari Muhammad, is scheduled to be executed at Florida State Prison, in Starke, Florida. Your parish is encouraged to continue to pray for Mr. Muhammad, his victims, his family, the victims' family; for all the public officials involved in this scheduled execution; for Governor Scott, that he will discern God's will and apply the teachings of our Catholic faith on the death penalty. Please contact Governor Scott to voice your concern. Parishes are encouraged to participate in prayer services at the parish or to attend a prayer service at the execution site in Starke. A bus will be leaving from the parking lot of Our Lady of Lourdes 201 University Blvd, Daytona Beach, 32118, at 2:30pm. Another bus will be leaving from Holy Cross (12600 Marsfield Ave, Orlando, FL 32837) at 3:30pm. A prayer service will be held at St. Patrick's Church in Mt. Dora at 3pm. For more information on the prayer service and the buses, contact the Office of Advocacy and Justice, advocacyjustice@orlandodiocese.org or 407-246-4819.
All Human Life is Sacred
The U. S. Catholic Bishops have called all Catholics to participate in a campaign to achieve the abolishment of the death penalty. Get more information on this initiative at Catholics Mobilizing Network to End the Use of the Death Penalty, see: http://catholicsmobilizing.org/.
The Sant'Egidio Community promotes "Cities for Life" Against the Death Penalty
The World Day "Cities for Life – Cities against the Death Penalty" on November 30, of each year. The hope is that, progressively more and more, many other cities join a battle of life, of progress, of humanity. Anyone can suggest the Mayors the participation in the World Day "Cities for Life – Cities against the Death Penalty". Everybody can do this by contacting his/her Mayor and asking membership. If that city has already agreed in previous years, then you have to ask what steps they intend to take for the event in November 2013! Read more.
"Now I Walk on Death Row" by Dale Recinella Now Available in French!
Just a quick note to let you know that the French Edition of "Now I Walk on Death Row" will be released November 30, 2013. That is the day that I will be in Rome, Italy for the Sant'Egidio Cities for Life 1,500 Cities in the World to Say "No!" to the Death Penalty. Keep all in prayer that we will soon see the end of the use of the death penalty in Florida and the U.S.-Dale Recinella.
Mass with Community of Deaf Catholics Celebrated by Bishop Noonan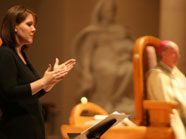 Join Bishop John Noonan as he celebrates Mass this Advent with the Community of Catholics who are Deaf at: St. Andrew's Catholic Church (501 N. Hastings St. Orlando, 32806) on Sunday, December 15th, 2013 at 11:30am. This Celebration is Open to the Community, Please Bring a Friend!*A Reception will follow the Liturgy*. Contact Office of Advocacy and Justice for more details: 407-246-4819 or advocacyjustice@orlandodiocese.org.
This Year Buy Fair Trade!
Fair Trade is about respecting and building relationships with the people that contribute to making the products we buy. Through Fair Trade CRS helps communities all over the world begin and continue a journey of self-sufficiency. When you buy Fair Trade products you contribute to the well-being of communities and families in developing countries who are working hard to lift themselves out of poverty. Fair Trade provides fair wages, sustainable development, and education opportunities to those involved.
Upcoming Sales!
Wed Dec 4th, Bishop Moore High School Seniors are sponsoring a Fair Trade Sale in the evening. Call the school for details; (407) 293-7561
St. Mary Magdalen in Altamonte Springs will hold sales in the Parish Life Center after the 5pm, 8am, 10am, and 12pm Masses the weekend of: December 7-8
Holy Family has Fair Trade goods available throughout the season; go to the gift shop at the parish to shop with purpose!
St. Mary of the Lakes in Eustis will be sponsoring their first ever Fair Trade sale this December the week after Thanksgiving; goods are available after weekend Masses. Call for details, (352) 483-3500
Ascension Parish has Fair Trade goods available, call Becky Cawley at the parish for details. (321) 254-1595
St. Ann in Debary has Fair Trade goods available, contact Gabrielle Golka at the parish; (386) 668-8270
Immaculate Conception Parish in Melbourne has Fair Trade goods for sale, contact Debbie Weir Kahn; (321) 725-0552
Bring JustFaith to Your Parish!
Our Christian faith and Biblical tradition extend an extraordinary invitation to each of us to become agents of God's compassion and healing in a wounded world. If you are interested in taking a journey of faith and justice with people from your parish family, then explore the transforming reflection process of JustFaith. JustFaith is a 30-week program in which adult parishioners meet weekly to help one another along a journey into compassion and a deepening experience of faith.
March for Life St. Augustine! Register Now to Stand up for Life in Florida!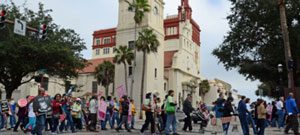 Every year since 2007 thousands of pro-lifers from all over Florida have met in our nation's oldest city, St. Augustine, to defend the dignity of human life. Please join our group this coming January 18 in standing up for the unborn. We will have two buses from our diocese going up to St. Augustine on January 18th for the march. The keynote speaker this year is Dr. Theresa Burke Founder of Rachel's Vineyard – the largest post abortion ministry in the world. For more information visit http://www.marchforlifestaugustine.com/ and to register please call Alejandro Luciano at 407-246-4819 or email aluciano@orlandodiocese.org and write "March for Life FL" in the subject line.
March for Life, Washington D.C. Youth Rally- January 22nd, 2014
Each year on the morning of the National March for Life; 28,000 youth gather from around the nation to attend the Youth Rally and Mass for Life hosted by the Archdiocese of Washington. Once again this year, young Catholics will gather at two locations to celebrate the gift of life and pray for an end to abortion.
The March for Life is attended by hundreds of thousands of people each year to remember the many lives destroyed by abortion and advocate (and pray!) for the least among us; the unborn. If you have a group that would like to attend the Youth Rally for Life on the morning of the march, January 22nd 2014, please contact Alejandro Luciano at the Office of Advocacy and Justice to request your tickets. Alejandro can be contacted at 407-246-4819 or by email at aluciano@orlandodiocese.org. Tickets are first come first served so please request yours today!
Youth Arts Contest 2014!
Educators lead participants through 5 easy steps to learn about U.S. poverty, CCHD's response, and the Two Feet of Love in Action. Visit the contest materials, or call the Office of Advocacy and Justice for details and ways teachers can meet their class objectives through the implementation of the art project. Call 407-246-4819 or email: advocacyjustice@orlandodiocese.org for more information. DEADLINE is March 1, 2014. Watch the recent interview with 2012's contest winner, Harley June Smith from St. Mary Magdalen Catholic School and her teacher Mrs. Gilda Brink for ideas on how to get started on your art project submission, here! Or go to our CCHD page in our website.
Catholic Days at the Capitol, March 25-27, 2014, Register Today!
Catholics from around the state gather in Tallahassee to participate in Catholic Days at the Capitol. Participants attend a legislative briefing on human life and dignity issues prior to meetings with elected officials. Included in the activities is a luncheon for participants, the bishops of Florida and state legislators.
Participants are also invited to the annual Red Mass of the Holy Spirit con-celebrated by the bishops of Florida. Attended by state officials, lawmakers, judges, members of the legal profession and the community, the Red Mass is celebrated to pray for those working in the executive, legislative and judicial branches of government. For more information and to register please see our flyer here.
News from the United States Conference of Catholic Bishops (USCCB)
Climate Talks Open, New Warnings from Scientists

Delegates from around the world are in Warsaw for talks toward a new climate treaty. A sense of urgency is increasing: scientists are issuing more and more dire warnings that time is running out to avoid dangerous global warming.
More crucially, the new reports are echoing a common theme that urgent action is required to reverse carbon emission trends. Otherwise, greenhouse gas accumulations will eventually break through the threshold that scientists say will lock in unacceptable warming. That means a future with even more droughts, floods, storms and rising seas.
Read more at Inside Climate News.
Then visit our website section on Stewardship of Creation for a Faith-based Study Guide on Climate Change.
Immigration Reform Action
Just a reminder that the Justice for Immigrants Campaign is hosting a national call-in today for Immigration Reform. The message is clear: Urge your Representative to support immigration reform with a pathway to citizenship that keeps families together.
If you're not able to call, please consider sending an email to your representative and urge him or her to co-sponsor immigration reform through House bill HR 15. It is also important to urge that Congress pass comprehensive immigration reform this year.
Additional information about the call-in day is posted on the JFI homepage and JFI Facebook page.