Click here for a calendar of events already published in escroll.
From the Catholic Mobilizing Network to End Use of the Death Penalty
In just two days, hundreds of us will gather for the Where Justice and Mercy Meet" conference on November 9 in Washington, DC. It's not too late to decide to attend, and even if you cannot be with us in person, click here to register for free to watch the event live on-line! (Please note that you also need to register to watch on-line.)
You will hear from panelists and contributors to the book, "Where Justice and Mercy Meet" about various aspects of Catholic teaching and the current state of the death penalty in the United States. You will also be moved by some of the most powerful story tellers in our movement, CMN's own Vicki Scheiber and Sr. Helen Prejean, CSJ, among others.
Additionally, the Catholic Mobilizing Network staff & volunteers look forward to meeting you. These are the folks who, with your support, have been hard at work to implement the Bishops Campaign to End the Use of the Death Penalty. In the past weeks we've been making the difference on the ground in Colorado, Delaware, Indiana, Kansas, Michigan, New Hampshire, Ohio and Texas.
There's another way you can participate: Click here now to add to the tremendous progress on our $50,000 matching grant campaign. We're approaching 25% of the way towards our overall goal, and there are now 12 supporters who are among the first 100 members of our new CMN Stewards Circle, who commit to a contribution every month.
CIW Action at Publix and Wendy's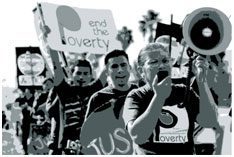 Saturday, Nov 9th @ 11 am: Meet at Publix on 12231 E Colonial Drive. Come join CIW members and local allies for a peaceful picket and march this Saturday at 11 am! We will begin our action at 12231 E Colonial Drive, site of a brand new Publix store, and march to a nearby Wendy's to participate in the national Wendy's Founder's Week of Action. For more information, contact Nico with the YAYA/National Farm Worker Ministry – yaya@nfwm.org, (386) 801-1232 – or visit the Facebook page.
It's time for both Publix and Wendy's to join the new day of human rights dawning in Florida agriculture. Come add your voice to the call! See you on Saturday.
The CIW's national Campaign for Fair Food educates consumers on the issue of farm labor exploitation – its causes and solutions – and forges alliances between farmworkers and consumers in an effort to enlist the market power of major corporate buyers to help end that exploitation. Since 2001, the campaign has combined creative, on-the-ground actions with cutting edge online organizing to win Fair Food Agreements with eleven multi-billion dollar food retailers, including McDonald's, Subway, Sodexo and Whole Foods, establishing more humane farm labor standards and fairer wages for farmworkers in their tomato suppliers' operations.
Bring JustFaith to Your Parish!
Our Christian faith and Biblical tradition extend an extraordinary invitation to each of us to become agents of God's compassion and healing in a wounded world. If you are interested in taking a journey of faith and justice with people from your parish family, then explore the transforming reflection process of JustFaith.
JustFaith is a 30-week program in which adult parishioners meet weekly to help one another along a journey into compassion and a deeping experience of faith. Sessions will be starting in the fall and Facilitator trainings are available during the summer months. For more information on the program see www.justfaith.org or call the Diocesan Office of Advocacy and Justice at 407-246-4819; email: advocacyjustice@orlandodiocese.org.
Latest Opportunity Nation Reports Shows Youth at Risk
Approximately 15 percent of Americans age 16-24 are neither in school nor working, according to a new report, putting at risk their ability to learn skills or gain experience they will need to achieve their full potential.
Opportunity Nation, a coalition of civic and non-profit organizations, released its findings last week, highlighting the struggles that low- and middle-income youth can face in having the opportunity to maintain self-sufficiency. Their Opportunity Index, an interactive online tool, illustrates on a county-by-county basis how local communities are providing support structures such as pre-school, affordable housing, and more.
Wed., Nov. 13, 2013 is a National Call-In Day to Congress for Immigration Reform
Here is the toll free number to use: 1-855-589-5698. After calling in, there will be a short recording with instructions to give this message to Members of Congress: "Support a path to citizenship and oppose the SAFE Act."
After the recording, callers will be prompted to enter their zip code on their telephone keypad and will be connected directly to their Representative's DC office.
Share with your networks the information about the call-in day, toll-free number and message to Congress and ask them to make the call.
Here is sample blurb that may be used for parish bulletins and e-newsletters:
The Feast Day of Saint Frances Cabrini is Wednesday, Nov. 13th. On the day to honor St. Cabrini, the patron saint of immigrants, Catholics and supporters of immigrants are asked to call their U.S. Representatives at 1-855-589-5698 and leave this simple message: "Support a path to citizenship and oppose the SAFE Act
Takes Action Around Potential Cuts to SNAP
The Farm Bill conference between Senate and House versions began last week, but few are expecting a quick resolution of differences. The biggest gap by far is the amount of funds to be cut from SNAP: the House is seeking up to $40 billion over ten years while the Senate proposes $4 billion.
The conferees will take the month of November to go through the 15 titles of the farm bill. (Visit: for more about the Farm Bill.) Negotiations are likely to continue into December.
Assuming a resolution of differences, the final bill could get wrapped into a vote on the full federal budget due by Jan. 15 when the current Continuing Resolution expires. NCRLC has signed onto a number of letters to Congress about our priorities, including a joint letter with the U.S. Conference of Catholic Bishops.
Both the House and Senate bills include reductions to the Supplemental Nutrition and Assistance Program (SNAP, formerly known as food stamps), and both would have an impact on those receiving aid from this crucial program.
The nonpartisan Congressional Budget Office estimated that the Senate's version of the bill would cause an estimated 500,000 households see their benefits cut by an average $90 per month. It also found that the House bill would cause nearly 3 million households to lose eligibility for SNAP, and another 850,000 households see their benefits fall significantly.
Please contact your legislator to let them know that reducing food stamps to those who are trying to budget their limited resources each month is not good public policy.
Also, continue to encourage your Representatives and Senators to agree on a fair and just farm bill for low-income families needing food assistance and family farmers who strive to be good stewards of the land.