Click here for event calendar and previously listed celebrations/events.
Helpers' Mass and Rosary Procession
The next Helpers' Mass and Rosary procession will be held at St. Margaret Mary Catholic Church (526 N. Park Ave, Winter Park) on Saturday, November 2nd, beginning with Mass at 8am. Following Mass we will drive to "All Women's Health Center" abortion clinic on 431 Maitland Ave in Altamonte Springs and pray the Rosary. Please join us in praying for the protection of human life. For more information, contact the Office of Advocacy and Justice; 407-246-4819; advocacyjustice@orlandodiocese.org.
A Journey of Faith and Justice
This all day free retreat will challenge you to put your faith into action while providing times for prayer, reflection, and dialogue. Join us on November 16 at Our Lady of Lourdes (201 University Blvd Daytona Beach, FL 32118) from 9:30am – 3:45pm with closing Liturgy at 4pm. For more information or to register to attend contact: Office of Advocacy and Justice; 407-246-4819; advocacyjustice@orlandodiocese.org.
Mass with Community of Deaf Catholics Celebrated by Bishop Noonan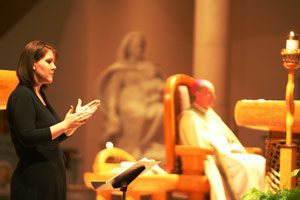 Join Bishop John Noonan as he celebrates Mass this Advent with the Community of Catholics who are Deaf at: St. Andrew's Catholic Church (501 N. Hastings St. Orlando, 32806) on Sunday, December 15th, 2013 at 11:30am. This Celebration is Open to the Community, Please Bring a Friend!*A Reception will follow the Liturgy*. Contact Office of Advocacy and Justice for more details: 407-246-4819 or advocacyjustice@orlandodiocese.org. Click here to download the flyer.
March for Life St. Augustine! Register Now to Stand up for Life in Florida!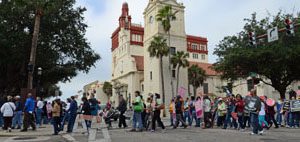 Every year since 2007 thousands of pro-lifers from all over Florida have met in our nation's oldest city, St. Augustine, to defend the dignity of human life. Please join our group this coming January 18 in standing up for the unborn. We will have two buses from our diocese going up to St. Augustine on January 18th for the march. The keynote speaker this year is Dr. Theresa Burke Founder of Rachel's Vineyard – the largest post abortion ministry in the world. For more information visit http://www.marchforlifestaugustine.com/ and to register please call Alejandro Luciano at 407-246-4819 or email aluciano@orlandodiocese.org and right "March for Life St.Aug" in the subject line.
March for Life, Washington D.C. Youth Rally- January 22nd, 2014
Each year on the morning of the National March for Life; 28,000 youth gather from around the nation to attend the Youth Rally and Mass for Life hosted by the Archdiocese of Washington. Once again this year, young Catholics will gather at two locations to celebrate the gift of life and pray for an end to abortion.
The March for Life is attended by hundreds of thousands of people each year to remember the many lives destroyed by abortion and advocate (and pray!) for the least among us; the unborn. If you have a group that would like to attend the Youth Rally for Life on the morning of the march, January 22nd 2014, please contact Alejandro Luciano at the Office of Advocacy and Justice to request your tickets. Alejandro can be contacted at 407-246-4819 or by email at aluciano@orlandodiocese.org. Tickets are first come first served so please request yours today!
Upcoming Webinar: Bring Home Dignity for Migrants. Update on Immigration Reform
Please join Catholics Confront Global Poverty (an initiative of USCCB and CRS) for this webinar on Thursday, October 17, from 1:00-1:30 EDT. Hear about the Church's work to defend the life and dignity of those who migrate and those living in poverty throughout the world. Also learn about current reform legislation, ask questions, and engage in dialogue with experts on the issues. Reserve your spot now!
The Partnership 2013: Where Faith and Disability Meet November 1-3, 2013, Houston TX
Join Daniel Cardinal DiNardo and others nationally who support the outreach and involvement of Catholics with disabilities of all ages, and their families, in the full life of the Church – sacramental, liturgical, catechetical and spiritual.
Come learn how meaningful participation for all individuals with disabilities can become a reality. Major addresses and learning sessions will cover a variety of topics: bioethics, mental illness, autism, developmental disabilities, Deaf/hard of hearing, sacramental preparation, family support in a multicultural environment, the New Evangelization, inclusion in Catholic schools and catechetical programs, and more. Learning sessions will be in Spanish and English. Exhibitors will share innovative products and services. For more information please visit: https://www.etouches.com/ehome/54848
The New Evangelization: Disciples on Mission in the World – New Resource
This attractive, double-sided handout is perfect as a parish bulletin insert to help Catholics reflect on the connection between our faith and our mission in the world. In the words of Pope Francis, faith doesn't "draw us away from the world or prove irrelevant to the concrete concerns" facing humanity. Instead, it involves "building in charity a city based on relationships," with God's love as the foundation. Access the new handout.
Webinar Recording on the New Poverty Statistics
Didn't have a chance to participate in the recent webinar on The New U.S. Poverty Statistics and Our Catholic Response? You can watch the video of the webinar, and download the PowerPoint presentation. At your school or parish, you can show this webinar recording along with helpful resources at www.povertyusa.org, including Snapshots of Poverty, lesson plans and activities, and an interactive map that will be updated soon with 2012 statistics for your state and locality. See JPHD's Unemployment and Poverty page, which includes Catholic social teaching primers and other resources.
Engage Your Parish to Support CCHD's Great Work to Fight Poverty
The annual collection for the Catholic Campaign for Human Development collection (in most dioceses, held the weekend before Thanksgiving) is a little over a month away! There are organizations in our diocese that receive funding from CCHD to address poverty in your community. This funding comes from the annual CCHD collection, 75% of which supports national grants to organizations all over the country, and 25% of which stays in your diocese for local distribution. Help ensure that this important collection happens in your parish by checking with your parish's administrative staff to ensure that collection materials have been received, and begin sharing online materials with parishioners. Thank you for your support of CCHD's mission to, in the words of Pope Francis, keep "working on the margins."
Social Media
Following PovertyUSA on Facebook yet? What about Twitter? Make sure these links are available on your diocesan website! And follow our team on Twitter by clicking on the links on the left.
Social Justice in the News
Recent stories about the Church's work on life and dignity:
National Conference on Ending the Use of the Death Penalty
On Saturday, November 9, the Catholic Mobilizing Network to End the Use of the Death Penalty (CMN) and the Institute for Policy Research & Catholic Studies at The Catholic University of America in Washington, D.C. are co-sponsoring a national conference entitled, Where Justice and Mercy Meet: Catholic Opposition to the Death Penalty. The program will focus on how Catholic teaching has evolved on the issue, where we stand today, and how Catholics are leading in winning the campaign to end the death penalty in the United States through public policy advocacy. Presenters will include CMN's Vicki Schieber, with a keynote address by CMN founder and noted Catholic anti-death penalty advocate Sister Helen Prejean, CSJ. Register now to attend. The event will also be broadcast via live stream for those who can't attend in person.
Action Alert: Support Government Programs that Fight Poverty
Congress continues to grapple with legislation to fund the federal government and address the federal debt ceiling. What should be a political commitment to the common good has taken a back seat to partisanship and ideology.
The Catechism teaches us that the proper role of government to "make accessible to each what is needed to lead a truly human life" (no. 1908), and U.S. Catholic Bishops have been consistent and persistent in their call to protect human life and dignity in budget negotiations.
Click here to urge your Senators and Representative to put a "Circle of Protection" around poor and vulnerable people at home and abroad.
Food Safety Modernization Act: Let's Get the Regulations Right
Everyone has a role in ensuring safe food from field to fork. The Food Safety Modernization Act is the first major overhaul of our nation's food safety practices since 1938, and it includes new regulations for produce farms and for facilities that process food for people to eat. It represents some big changes to our food system — and it is extremely important for the Food and Drug Administration to get these regulations right.
A comment period is currently open for the public to make their voice heard. But first, you may want to learn more about this new act. An immediate step is to check out the information posted at the National Sustainable Agriculture Coalition website. You will also see an opportunity to sign up for a webinar this Thursday, Oct. 10.
The Farmers Market Coalition is also hosting a webinar at 4pm (Eastern) on Oct. 15. They will explain how the proposed rules will affect farmers markets and direct marketing farmers, as well as how to submit comments to make your voice heard.