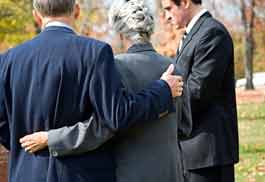 Execution Scheduled for June 24th
Marshall Gore is scheduled to be executed on Monday, June 24th. Please pray for Mr. Gore, his family, the victim's family and friends, that they will continue to receive healing through the grace of our Lord Jesus Christ; for all the public officials involved in this scheduled execution; for Governor Scott, that he will discern God's will and apply the teachings of our Catholic faith on the death penalty. Please refer to the petitions and bulletin insert below. If you would like to schedule a prayer service for your parish or want more information, contact the Office of Advocacy and Justice, advocacyjustice@orlandodiocese.org or 407-246-4819. A bus will be leaving from Our Lady of Lourdes Catholic Church in Daytona Beach at 2:30pm on June 24th to pray in front of the prison where Marshall Gore will be executed, for more information click here. Bishop John Noonan will be celebrating a Red Mass of the Holy Spirit on June 24th at 12:10pm at St. James Cathedral where he will call upon all people of good will to pray for victims of violence and those who will be executed because of violent crimes.
The U. S. Catholic Bishops have called all Catholics to participate in a campaign to achieve the abolishment of the death penalty, see: click here.
Must Read News and Resources
Advocacy Efforts
Senate takes up Immigration Reform
The Senate has opened debate on the Immigration bill and first votes are happening this week. These include amendments that will weaken or destroy path to citizenship for millions of persons. People of faith continue to play an integral role in moving our national conversation forward and moving our nation is closer to enacting compassionate and fair immigration reform.
The Justice for Immigrants Campaign has developed a series of resources that discuss a wide range of topics related to immigration. These educational tools include information on how to reach out to the media, tips for pastors who are developing homilies on immigration related issues, and a fact sheet debunking commonly held myths that some opponents of reform claim are facts.
The Little Dreamers Amendment Is At Risk!
Blumenthal-Murkowski 1327, the Little Dreamers Amendment, gives the youngest DREAMers (currently under age 13) the same path to citizenship as older DREAMers – It's only fair: The estimated 630,000 children who aren't old enough to have graduated from high school but who meet the other requirements of the DREAM title and are enrolled in school should have access to the same 5-year path to citizenship.
The waiting period is doubled without the amendment: Under the bill as currently written, these children would have to wait 10 years. 10 years is a child's entire life, and is too long to wait for the youngest DREAMers.
This amendment already has bipartisan support.
Besides being fair, it will increase the academic achievement of the youngest DREAMers, increasing high school graduation and college entrance rates, leading to increased earnings and increased tax revenue.
The Little Dreamers Amendment ensures that immigration reform does right by children who are growing up in our country and deserve the opportunity to achieve their full potential.
Action: CALL THESE SENATORS TODAY TO DEMAND SUPPORT FOR THE LITTLE DREAMERS AMENDMENT!
Senator Rubio: (202) 224-3041

Senator Graham: (202) 224-5972

Senator Flake: (202) 224-4521

Senator McCain: (202) 224-2235
You may use the following message: "As an advocate for children, I strongly urge Senator [NAME OF SENATOR] to SUPPORT the bipartisan Little Dreamers Amendment, Blumenthal-Murkowski 1327 to the immigration reform bill. The amendment ensures that immigration reform does right by children who are growing up in our country. Supporting Little Dreamers is the right thing to do."
National Catholic Partnership on Disability
Alert: The National Catholic Partnership on Disability (NCPD) urges you to express your opposition to proposed changes to organ donation solicitation procedures that would threaten hospitalized persons with disabilities.
Senate Committee Holds Hearing on Human Trafficking
On Tuesday June 11, the Senate Finance Committee held a hearing entitled "Sex Trafficking and Exploitation in America: Child Welfare's Role in Prevention and Intervention." The witness panel highlighted the need for reform in the child welfare system to address the fact that children in the foster care and juvenile justice systems are particularly vulnerable to human trafficking. Panelists stressed the need for housing services for victims, and also called for improved reporting, and additional educational resources.
Bipartisan bills have been introduced in both chambers during this Congressional session that address the connection between the child welfare system and human trafficking: the Strengthening the Child Welfare Response to Human Trafficking Act of 2013 (H.R. 1732) and the Child Sex Trafficking Data and Response Act of 2013 (S. 1118).
A video of the hearing, as well as the witnesses' written testimony and statements provided by Chairman Baucus (D-MT) and Ranking Member Hatch (R-UT) are available on the Senate Finance Committee website.
Resources
New Resource Helps 'Map the Meal Gap'
This week, hunger advocacy group Feeding America released this year's Mapping the Meal Gap report, which provides food security and food cost estimates down to the county and congressional district level.
This year's key findings reflect 2011 data, and find that more than 50 million people in the US are food insecure, at least 17 million of whom are children. The county with the highest overall food insecurity rate was Holmes County, Missouri (35%), while the county with the highest child food insecurity rate was Zavala County, Texas (46%). On average, food-insecure persons needed an additional $14.35 per person per week to provide enough food for their household.
For detailed information please see the press release, executive summary, and interactive map from Feeding America.
Play Project Update – June 2013
By Greg Callaghan, DMW School Theatre Project Coordinator – June 17, 2013 – The Dead Man Walking School Theatre Project has finished our ninth season. Students and directors in Iowa,…MORE