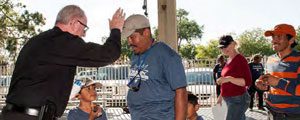 News
Legislative Alert
Amendments to the Senate immigration bill, S. 744. Send this message to your U.S. Senators NOW!
Dear Senator, As you consider S. 744, I ask that you support amendments that allow more persons to qualify for the path to citizenship and that unify families and oppose amendments that weaken the path to citizenship and increase enforcement measures.
Earth Care
Pope Francis on Human and Environmental Ecology
In the wake of Pope Francis' prophetic message to mark the 2013 World Environment Day, several people reflected on this message and what it means for Catholics.
At Millennial Journal, Dan DiLeo of our staff wrote Pope Francis on Consumerism, Environmental Ecology, and Human Ecology. The article offers five suggestions for how Catholics might respond to the pope's message,
Distinguish between "Consumption" and "Consumerism"
Connects the Dots between Consumerism and Environmental Degradation
Highlight the Connection between Creation Care and Protecting Human Life and Dignity
Embrace the Virtues of Prudence and Temperance
Imagine a New System
Carbon dioxide emissions rose 1.4 percent in 2012, IEA report says.
The Washington Post writes that carbon dioxide emissions rose 1.4 percent in 2012 according to a new International Energy Agency (IEA) report.