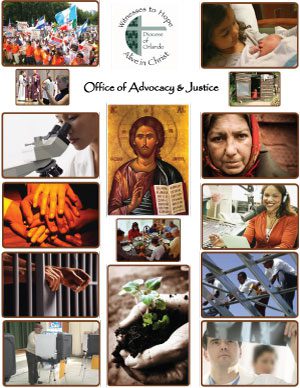 Advocacy Efforts
Execution Scheduled for May 29th
Rachel's Vineyard Post-Abortion Retreat
Stand 4 for Life
Stewards of the Earth
USCCB Life Issues Forum Resource
Stand 4 for Life
Join us with members from many faith communities on Saturday, May 4th from 10am-12pm to stand in prayerful witness at abortion sites across the state. If you are not sure where the nearest abortion facility is in your community, contact the Office of Advocacy and Justice for locations. This is an opportunity to be in solidarity with others, praying at the foot of the cross at Calvary. More information here.
Rachel's Vineyard Post-Abortion Retreat
May 17-19 at San Pedro Center in Winter Park. Have you been affected by abortion? Do you need peace, community and the love of God? This weekend is for you. This confidential retreat offers a safe, non-judgmental environment where women and men find healing and reconciliation for their painful experience of abortion. For more information or to register, please contact Karen at 321.662.5097 or karenreilly57@gmail.com. For additional information about Rachel's Vineyard, please visit www.rachelsvineyard.org or contact the Office of Advocacy and Justice at 407.246.4819.
Execution Scheduled for May 29th
Elmer Leon Carroll is scheduled to be executed on Wednesday, May 29th. Bishop John Noonan will host a prayer vigil, May 29 (details to come). Please pray for Mr. Carroll, his family, the victim's family and friends, that they will continue to receive healing through the grace of our Lord Jesus Christ; for all the public officials involved in this scheduled execution; for Governor Scott, that he will discern God's will and apply the teachings of our Catholic faith on the death penalty. Please refer to the petitions and bulletin insert below. If you would like to schedule a prayer service for your parish or want more information, contact the Office of Advocacy and Justice, advocacyjustice@orlandodiocese.org or 407-246-4819. Our Lady of Lourdes Parish, Daytona Beach sends a bus to the prison each execution to pray with others at the site. If you would like bus information, please call: (386) 255-0433.
The U. S. Catholic Bishops have called all Catholics to participate in a campaign to achieve the abolishment of the death penalty, see: www.usccb.org/deathpenalty/.
Our Bishops have stated that, "At a time when the sanctity of life is threatened in many ways, taking life is not really a solution but may instead effectively undermine respect for life." This pending execution gives Florida Catholics the opportunity to be a part of the campaign in a very personal way. Our hearts and lives must have special space for the victims and their loved ones as well. But let it be known that "standing with families of victims does not compel us to support the use of the death penalty" (U.S. Bishops).
Petitions
For men and women who sit on death row awaiting the end of their life.
For the victims of violence and hatred, that they may be freed from pain and fear.
For the loved ones of those who have suffered death at the hands of another person, may their hearts experience the healing and reconciling power of the Spirit.
For the families of those condemned to die, that the hope of the resurrection and the truth of the Gospel of life might strengthen them in their time of need.
May the witness of the Church to the sacredness of all life, even of those who have done evil acts, serve to call our nation to a new awakening in responding to crime and determining punishment.
Resources
USCCB Life Issues Forum Resource
This issue of Life Issues Forum is available in both English and Spanish and can also be found on our website. This issue focus is on Religious Freedom. Back issues of Life Issues Forum can be found at www.usccb.org/about/pro-life-activities/life-issues-forum/ (June 2011 onward) and old.usccb.org/prolife/publicat/lifeissues/index.shtml
Stewards of the Earth
Feast of St. Francis – October 4
Mark your calendars now for October 4, 2013! Join tens of thousands of other Catholics who will learn about the dramatic evidence of climate change and explore Catholic teaching on climate change. This year's Feast of St. Francis program: "Melting Ice, Mending Creation: a Catholic Approach to Climate Change." It's not too early to be looking ahead to your celebration of the Feast of St.Francis.
We've now issued a Press Release about this upcoming event which you are invited to share along with this Flyer to promote this program in your parish, school, college or other organization.
This year our Feast of St. Francis program will highlight the a Pontifical Academy of Science's Working Group (PAS) statement, Fate of Mountain Glaciers in the Anthropocene, combined with viewing a "TED" talk by James Balog, the science photographer behind the documentary film Chasing Ice, who documented
some of the most vivid evidence yet of climate change.
In their declaration, the PAS calls, on all people and nations to recognize the serious and potentially irreversible impacts of global warming caused by the anthropogenic emissions of greenhouse gases and other pollutants, and by changes in forests, wetlands, grasslands, and other land uses. Read Summary (first 5 pages) of the entire report here.
The Coalition will offer a complete Educational Kit with Discussion Guide to accompany your program along with all the resources you'll need to promote it and encourage further engagement on these issues by your audience. These resources will be rolled out in the coming weeks and months. SIGN UP NOW to register your interest. Share this FLYER and View our PRESS RELEASE about this year's Feast of St. Francis program.
Responsible, Caring, Smart, and Healthy
How would you like people to think of you? When it comes to the environment, a recent survey commissioned by The National Geographic Society says that this is how we think of people who do the right thing by the environment.
Sadly the survey also concludes that Americans feel the least guilty about not living more sustainable lifestyles. Ironically, in countries where environmental harms are obvious (e.g., China, India, Brazil), people feel guiltier about behaviors that contribute to environmental harm. So there appears to be some correlation between recognizing the problem and changing the behavior.
In a U.S. Catholic article about the survey, it notes that guilt is a motivator for Catholics but clearly we have a long way to go in recognizing the problem of climate change and changing our behaviors accordingly.
When was the last time you urged fellow Catholics (neighbors, family, parishioners) to take a look at the St. Francis Pledge to Care for Creation and the Poor? Help spread this good news as responsible, caring, smart and healthy.
Pope Francis and the Environment
In Theology of environment, Philip M. Lustre Jr. comments on the background and worldview of the new Pope Francis. In particular, Mr. Lustre writes that many expect environmental protection [to be] the area where [Pope Francis'] pontificate is to leave a lasting mark and asserts that [f]or Francis's sake, a new theology of environment must evolve to put the Catholic Church as a vanguard institution to stop environmental abuse and initiate the recovery of nature.
In Utah eco-activists hope Francis becomes the eco-pope, Peggy Fletcher Stack writes that the early words and actions of Pope Francis has given many Catholics hope that the new pontiff will continue to prioritize care for God's Creation. In addition, Ms. Fletcher notes that In 2007, Catholic bishops in Latin America met to discuss issues facing the region, including questions relating to the environment. Francis, then known as Archbishop Jorge Mario Bergoglio, led the committee that drew up the group's conclusions [. . . which] criticized "the extractive industries and agribusiness for failing to respect the economic, social and environmental rights of local communities."
Zenit is reporting that Dr. Carlo Bellieni, a member of the Pontifical Academy for Life as well as the European Society for Pediatric Research, has recently written about the connection between care for human life and dignity and care for God's creation. In The Ecology of Pregnancy, Dr. Bellieni highlights that [f]etuses can be exposed to hundreds of pollutants during their prenatal life, and highlights environmental degradation and exposure to some solvents, heavy metals, pesticides, air pollutants, plastics can harm fetal development. In addition, Dr. Bellieni points out that many medical professionals pushing harder for medical care without pushing, forcing or overriding anything until our action has been proven to be harmless to both the human and natural ecology.
The University of Portland and Catholic University of America
As reported last week, the University of Portland recently became the sixteenth Catholic college/university to become a Catholic Climate Covenant Partner by endorsing the St. Francis Pledge. This week the Archdiocese of Portland's Catholic Sentinel newspaper reports in UP Signs Pledge to Care for Creation and the Poor some of the highlights some of the University's specific sustainability efforts.
Across the country, students at The Catholic University of America in Washington, D.C., are urging the University to join other Catholic schools and endorse the St. Francis Pledge. Students have established a petition calling on the University to take the St. Francis Pledge, and theology student Chelsea Schoen has written an op/ed in CUA's The Tower newspaper titled Following in Francis' Footsteps. She makes the case for why CUA should take the Pledge: Being students of The Catholic University of America, we should feel that it is imperative that our school makes the commitment to reduce our impact on global climate change in order to protect the environment and spread awareness about the ethical and moral implications of global climate change. By signing the St. Francis Pledge, our university will stand in solidarity with 16 other colleges who took a vow to reflect upon our impact on the global scale and how we can best implement the teachings and values of St. Francis.
Ambassadors Offer Presentations Around the Country
Catholic Climate Ambassador Sr. Rose Marie Tresp, RSM, will present a workshop titled Global Restoration/Care for Creation at the June 14-16 2013 Pax Christi USA National Conference (Remembering the Past with Gratitude, Living the Present with Enthusiasm, Embracing the Future with Confidence and Hope) in Atlanta, GA.
On April 19, Ambassador and chief of cardiology at Rochester General Hospital's Heart Institute, Dr. Gerry Gacioch (pictured here), offered a presentation on the Church's authentic teaching on climate change at St. Peter's Church in Plattsburgh, NY. The presentation was sponsored by the Diocese of Ogdensburg and the St. Peter's Church Environmental Stewardship Committee.
To learn more about the Ambassador program and how to schedule one of the 21 Catholic Climate Ambassadors at your parish, diocese, or school, click here.
National Federation for Catholic Youth Ministry
The National Federation for Catholic Youth Ministry (NFCYM) is promoting the Coalition's Friending Planet Earth: Helping Youth Understand Solidarity and Sustainability in Light of Climate Change (developed in collaboration with the Center for Ministry Development) on its webpage Catholic Youth: Care for Creation, Care for the Poor. The six-session program is designed to be done in a series or as stand-alone sessions and include:
*A Carbon Footprint
*A Dream for the World
*Climate Change: Our Church has Something to Say
*Climate Change: Stories of Hope
*Operation Impact
*The Human Face of Climate Change
Franciscan Climate Campaign
Webinar May 2
The Franciscan Action Network is holding their next Climate Campaign webinar is Thursday, May 2, 2013, from 4 to 5 p.m. They will go through step-by-step how to pull off a public event and coordinate a group of climate-saving companions. You can register here or email their Director of Organizing, Lonnie Ellis, with any questions.
Climate Revival – An Ecumenical Festival to Embolden the Renewal of Creation
On Saturday, April 27, 2013, leaders of several faith traditions will gather in Boston for the Climate Revival- An Ecumenical Festival to Embolden the Renewal of Creation. Organizers write that, This event will be led by national and international religious and environmental leaders. Preachers so far include: The Rev. Geoffrey Black, General Minister and President of the United Church of Christ, and the Most Rev. Katharine Jefferts Schori, Presiding Bishop of the Episcopal Church. In addition, Desmond Tutu, Archbishop Emeritus South Africa will send a video message to those gathered.
The Coalition will represent the Roman Catholic tradition at the event, which will take place at Old South Church UCC and Trinity Church (Episcopal) on Boston's Copley Square. More information, including fliers and bulletin inserts, are available online.
Advocacy Efforts
Recent Social Justice News
Here are some recent stories about the Church's work on life and dignity:
Read the USCCB news release (en Español) for information on the immigration reform press conference with Cardinal Timothy Dolan of New York, Archbishop Jose Gomez of Los Angeles, and Bishop John Wester of Salt Lake City. Their individual statements are linked below:
USCCB Urges Congress to Help Build a Culture of Life by Supporting Policies to Reduce Gun Violence
Earlier this month, Bishop Stephen E. Blaire, Chair of the Committee on Domestic Justice and Human Development, wrote a letter to the full Senate urging them to adopt in S. 649, (Safe Communities, Safe Schools Act of 2013) policies that:
Require effective and enforceable universal background checks for all gun purchases; and,
Establish a vigorous law that makes gun-trafficking a federal crime.
And to consider amendments to the bill which support provisions that:
Limit civilian access to high-capacity ammunition magazines;
Ban assault weapons.
The Senate failed to achieve consensus on amendments in the legislation and S. 649 was withdrawn. In response, Bishop Blaire sent a letter expressing his disappoint at what he called, the Senate's "failure in moral leadership to promote policies which protect and defend the common good,"
Thank you to all of you who responded to the Action Alerts that were sent out. You helped shape the conversation and although the legislation has been tabled for now, we ask you to continue to work with the USCCB and other people of good will, to pressure Congress to act in support of reasonable policies to save lives by reducing gun violence.
Proposed changes in FCC enforcement mean MORE obnoxious, offensive content over your broadcast airwaves. (From the Parents Television Council):
"The Federal Communications Commission (FCC) recently proposed changing the rules governing their enforcement of broadcast decency laws. Under the new rules, the FCC would only investigate and issue fines against the most "egregious" broadcast content. Harsh profanity and "non-sexual" nudity might not be punished under the new rule Read more and take action.
Farm Bill 2013: Preparing for Committee Actions
In last week's eBulletin, we anticipated that Members of Congress are putting forward "marker bills" as a way to introduce important programs and reforms in our federal agricultural policies. We expect these to become wrapped into the comprehensive Farm Bill, and indeed advocate that this happens. Learn more about important marker bills, such as the Local Farms, Food and Jobs Act.
We also encourage our network to check and see if their Senator or Congressional representative is on one of the Ag committees. Click here for members of the Senate Committee on Agriculture, Nutrition & Forestry and this link for House Committee on Agriculture.
Thanks to all those who sent in comments opposing President Obama Administration's latest proposed regulations on the contraceptive/abortifacient/sterilization mandate. More than 56,000 messages were sent by persons responding to the NCHLA alert!
At this time it is vital that we re-dedicate our efforts to pass the Health Care Conscience Rights Act (H.R. 940). The U.S. House of Representatives again should be urged to include H.R. 940 in upcoming "must-pass" legislation.
Please click on the link below to send a message to your Representative today! You will also be asked to send a message to Speaker John Boehner (R-OH).
Even if you have already contacted your Representative in support of H.R. 940, it is important that Members again hear of the need to pass this legislation.
The Administration's contraceptive/abortifacient/sterilization mandate will begin to be enforced against nonprofit religious schools, charities and health care providers on August 1. In the days to come, Congress must decide whether to address this problem through must-pass legislation before that deadline. Please act today to protect conscience rights and religious liberty!
Click this link to log in and send your message: http://actions.nchla.org/link/target/nchla/q9N3zy4y.aspx .
Bi-Partisan Immigration Bill Introduced
Last week, a bi-partisan group of eight Senators introduced a comprehensive bill that would overhaul our nation's immigration system and provide a path to citizenship for most of the 11 million undocumented immigrants living in the United States.
In addition to increasing the number of new permanent residents, the proposal would enhance high-skilled temporary-worker programs, create new visas for lower-skilled temporary workers and agricultural workers, and authorize $4.5 billion for border security.
Known as the "Gang of 8," the group responsible for the bill is comprised of Senators Charles Schumer, D-N.Y., Bob Menendez, D-N.J., Lindsey Graham, R-S.C., Marco Rubio, R-Fla., Dick Durbin, D-Ill., Jeff Flake, R-Ariz., John McCain, R-Ariz., and Michael Bennet, D-Colo.
A summary of the bill is available from Sen. Rubio's office, and the full text of the bill is available here. Shortly after the bill was introduced, Fr. Larry Snyder, President of Catholic Charities USA issued a statement commending the introduction of the bill, saying "We look forward to analyzing this proposal in detail and working closely with Members on both sides of the aisle to bring to fruition a bipartisan path forward for the millions in our country waiting for action." The full text of that statement is available here. The bill will now go to the Judiciary committee, where a series of hearings is expected prior to a vote. Please look for updates as the proposal moves through the legislative process.
The Catholic Legal Immigration Network (CLINIC) released a summary of the bill, and its partners at the United States Conference of Catholic Bishops also released a statement.
Quarterly Snapshot Survey Shows Potential Impact of Sequester
Catholic Charities USA recently released its Fourth Quarter 2012 Snapshot Survey, giving a real-time look into the on-the-ground situations faced by Catholic Charities agencies around the country. This quarter's survey focused on cuts to federal non-defense discretionary spending, known as "sequestration."
Agencies report that eminent cuts to federal spending will force the already struggling agencies to serve even fewer clients, particularly those seeking basic assistance and refugee services. The majority of agencies indicated that decreases in federal funding would significantly impact their ability to provide refugee services (69 percent of agencies providing these services), basic needs assistance (59 percent), food services (56 percent), housing services (53 percent), and utilities assistance (50 percent). Additional findings of the survey can be found in this survey report.

Health Care Conscience Rights Act (H.R. 940)
At this time it is vital that we re-dedicate our efforts to pass the Health Care Conscience Rights Act (H.R. 940). The U.S. House of Representatives again should be urged to include H.R. 940 in upcoming "must-pass" legislation. Please click on the link below to send a message to your Representative today! You will also be asked to send a message to Speaker John Boehner (R-OH).
Even if you have already contacted your Representative in support of H.R. 940, it is important that Members again hear of the need to pass this legislation.
The Administration's contraceptive/abortifacient/sterilization mandate will begin to be enforced against nonprofit religious schools, charities and health care providers on August 1. In the days to come, Congress must decide whether to address this problem through must-pass legislation before that deadline. Please act today to protect conscience rights and religious liberty!
Click the link below to log in and send your message: http://actions.nchla.org/link/target/nchla/q9N3zy4y.aspx