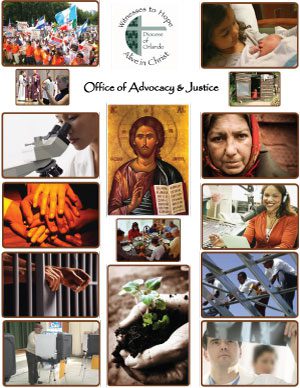 Rachel's Vineyard Post-Abortion Retreat
Have you been affected by abortion? Do you need peace, community and the love of God? This retreat weekend, May 17-19 at San Pedro Center in Winter Park, is for you. This confidential retreat offers a safe, non-judgmental environment where women and men find healing and reconciliation for their painful experience of abortion. For more information or to register, please contact Karen at 321.662.5097 or karenreilly57@gmail.com. For additional information about Rachel's Vineyard, please visit www.rachelsvineyard.org or contact the Office of Advocacy and Justice at 407.246.4819.
Join us with members from many faith communities on Saturday, May 4th from 10 am-12 pm to stand in prayerful witness at abortion sites across the state. If you are not sure where the nearest abortion facility is in your community, contact the Office of Advocacy and Justice for locations. This is an opportunity to be in solidarity with others, praying at the foot of the cross at Calvary. For more information, contact the Office of Advocacy and Justice, 407-246-4820 or email: advocacyjustice@orlandodiocese.org.
Pope Francis, St. Francis and Creation
We share three excellent articles from this past week on what the Catholic community might expect from Pope Francis and his teaching on the environment and what distinguishes a Franciscan approach.
Maureen Fielder in the National Catholic Reporter writes in Pope Francis a 'Franciscan Jesuit' When It Comes to Environment, that many expect Pope Francis to continue making creation care central to his pontificate. Fiedler points out that the environmental message in his inaugural homily echoed the final document of the Fifth General Conference of the Council of Latin American Bishops in Aparecida, Brazil, in 2007. Pope Francis, who was then Cardinal Jorge Mario Bergoglio, chaired the committee that drew up the final recommendations. She notes that among those recommendations, It criticizes extractive industries and agribusiness for failing to respect the economic, social and environmental rights of local communities, especially indigenous people.
And from Nelson Araque, one of the Coalition's Catholic Climate Ambassadors and a blogger for the Archdiocese of Miami, comes A Pope Named Francis. Mr. Araque writes that during this first month of Francis' papacy it is clear, as well as it was for his predecessors, Benedict XVI and the Blessed John Paul II, that the theme of care for creation/care for the poor is a priority of his papal agenda. Araque notes that the new Pope included references to creation care in his inaugural Mass homily, first meeting with diplomatic corps attached to the Holy See, and his Easter Urbi et Orbi Message, among others. See a compendium of these statements on the Coalition's Pope Francis webpage.
In A Franciscan Approach to Climate Change from Ríobart É. Breen, SFO Ph.D. (working with Coalition-member, Franciscan Action Network), he comments on some of the valuable insights that the Franciscan tradition brings to the current climate change conversation. These include kinship with Creation, the integration of science with faith, the sacredness of all of creation, and the Franciscan process of conversion.
Brother Earth Day
In a twist to Earth Day (April 22), St. Francis of Assisi Parish in Triangle, VA, will celebrate Brother Earth Day on Sunday, April 21. The event is inspired by the Canticle of the Sun by St. Francis of Assisi which praises God for "Brother Fire," "Sister Water," and all Creation.
Attendees at any one of three Masses will be able to participate in an informational fair to learn from guest speakers about organic/fair trade cooking, energy auditing, energy conservation and home goods/electronics recycling. The event builds on and celebrates St. Francis of Assisi Parish becoming the first house of worship to be accepted into the national GreenFaith Certification Program .
Putting a Human Face on Climate Change
Just a reminder to you to consider celebrating Earth Day (or any day) with a screening of the Academy Award-nominated film Sun Come Up (view trailer). This film depicts some of the world's first climate change refugees, inhabitants of the Carteret Islands in the South Pacific, who have begun relocation efforts to a larger island with the help of the local Catholic diocese.
Sun Come Up Education Kits and Facilitator's Guides for colleges, parishes, and youth groups are available. Using these guides, as well as the bulletin inserts, flyers, and other promotional material, we encourage you to schedule a screening of Sun Come Up in celebration of Earth Day or some other time this spring.
The screening and accompanying Educational Kits are designed for Catholic colleges, universities, high schools, youth groups, dioceses and parishes.
The Education Kit includes a step-by-step discussion guide to encourage actions to take in response to the unfolding climate crisis: actions that are consistent with Catholic teaching and the priorities of the U.S. bishops and the Vatican.
BE SURE TO REGISTER YOUR EVENT BY SIGNING UP (so you can receive the Prayer Cards which accompany the program). If you do not already have a copy of the video: Order it directly from the distributor at a discounted rate (go to Sun Come Up Resources page for more information).
New Resource from the Catholic Health Association of the United States
The Catholic Health Association of the United States has published a new resource, Connecting Health Care With Public and Environmental Health (must have Adobe Reader). Authored by Ted Schettler, MD, MPH, science director of the Science and Environmental Health Network (SEHN). The new resource highlights that many Catholic health systems and hospitals are more fully integrating Catholic mission-based sustainability into their ministries for ethical, economic, and public/environmental health-based reasons.
Following the Catholic model, A growing number of health care organizations are undertaking systematic analysis of materials and product purchasing, building design, construction operations, energy sources and consumption and profiles of the food they purchase and serve in their own facilities. In sum, Dr. Schettler says that Catholic health care is committed to protecting the environment, to minimizing environmental hazards and to reducing our contribution to the problem of climate change. We care for those who are harmed by the environment, we strive for internal practices to ensure environmental safety and we advocate public policies and private actions that bring solutions.
Preparing for Earth Day 2013
The Earth Day Network is a coalition of partner groups from around the world devoted to broadening and mobilizing the environmental movement that grew out of the first Earth Day: April 22, 1970. This year, the Network is recounting the stories of people and places dealing with the effects of climate change. While it may seem like a remote problem for our political leaders, climate change is already impacting real people and places.
Earth Day Network is showing these impacts in the Faces of Climate Change along with what many are doing to face up to climate change. Besides viewing their web photos, you can also contribute by taking a photo and telling your own story. How has climate change impacted you? What are you doing to be part of the solution?
Related to the global climate concern, the May issue of the Sojourners magazine takes a look at "Licking Climate Change" and what it will take to push back the effects. We also invite you to visit the NCRLC website to view and download the Faith-Based Study Guide on Climate Change. These are two useful resources for a church or youth group study discussion.
FYI: Catholic Ecology Blogspot
Pope Benedict XVI made clear a few years ago that "our duties towards the environment are linked to our duties towards the human person." He went on to say that "it would be wrong to uphold one set of duties while trampling on the other."
To this purpose, Bill Patenaude writes a Catholic Ecology blogspot focusing on the teachings of Bl. John Paul II, Benedict XVI, and now Pope Francis. He expounds on why the Church is speaking on ecology, what she is saying, why this is important, and how the faithful are called to respond.
Bill tells us that his blog "is simply the natural intersection of faith and reason, as seen through subjects-like water, food, energy, and more-that have immense implications." He invites you to read and comment at Catholic Ecology and help spread the news about our duties toward both the human person and the environment-about love of God and neighbor.
Bi-Partisan Immigration Bill Likely to be Released This Week
The Gang of 8, a bi-partisan group of Senators seeking comprehensive reform of our nation's immigration system, is expected to release a bill with reform proposals this week.
Sen. Marco Rubio, R-Fla., appeared on all six major Sunday talk shows to promote the legislation, which is expected to include a pathway to citizenship known as Registered Provisional Immigrant Status. Undocumented immigrants could file for that status, which, upon successful completion of a criminal background and the payment of a fine, would grant them the ability to pursue U.S. citizenship after a substantial period of time. The bill is also expected to include heavier enforcement provisions along the U.S.-Mexico border, a mandatory worker verification program, and a new electronic visa-tracking system.
Catholic Charities USA supports immigration policies that strengthen families, promote the security of our nation, and provide a path to citizenship for undocumented workers and their families. To learn more, please see this January 2013 statement.
White House Releases FY2014 Budget
The President released his budget proposal for Fiscal Year 2014. The President's budget comes after competing proposals from both the Senate and the House of Representatives. While budget resolutions have no force of law, they are intended as blueprints to express the government's funding priorities and pathways towards reducing the federal deficit. For a look at the funding levels allocated to key funding sources for programs run by Catholic Charities agencies across the country, please see this chart prepared by the Catholic Charities USA social policy team.