Click here for Office of Advocacy and Justice Calendar of Events
Helpers' Mass and Rosary Procession November 2
The next Helpers' Mass and Rosary procession will be held at St. Margaret Mary Catholic Church (526 N. Park Ave, Winter Park) on Saturday, November 2, beginning with Mass at 8 a.m. Following Mass we will drive to "All Women's Health Center" abortion clinic on 431 Maitland Ave in Altamonte Springs and pray the Rosary. Please join us in praying for the protection of human life. For more information, contact the Office of Advocacy and Justice; 407-246-4819; advocacyjustice@orlandodiocese.org.
Scheduled Execution: Prayer and Action Alert
On November 12, Darius Kimbrough, is scheduled to be executed at Florida State Prison, in Starke, Florida. Your parish is encouraged to continue to pray for Mr. Kimbrough, his victims, his family, the victims' family; for all the public officials involved in this scheduled execution; for Governor Scott, that he will discern God's will and apply the teachings of our Catholic faith on the death penalty. Please contact Governor Scott to voice your concern. Parishes are encouraged to participate in prayer services at the parish or to attend a prayer service at the execution site in Starke. A bus will be leaving from the parking lot of Our Lady of Lourdes 201 University Blvd, Daytona Beach, 32118, at 2:30 p.m. A prayer service will be held at St. Patrick's Church in Mt. Dora at 3 p.m. For more information on the prayer service, contact the Office of Advocacy and Justice, advocacyjustice@orlandodiocese.org or 407-246-4819.
All Human Life is Sacred
The U. S. Catholic Bishops have called all Catholics to participate in a campaign to achieve the abolishment of the death penalty. Get more information on this initiative at Catholics Mobilizing Network to End the Use of the Death Penalty, see: http://catholicsmobilizing.org/.
Recent developments in Florida Capital Punishment
From the Death Penalty Information Center: Intellectual Disability: Process for Determining Mental Retardation Under Review in Florida and Georgia
• On October 21, the U.S. Supreme Court announced that it will review Hall v. Florida (12-10882), in which the Florida Supreme Court upheld the death sentence of a man whose IQ is just above the state's standard for determining "mental retardation."
• According to the current law, those who have an IQ of 70 or higher cannot be considered intellectually disabled even if there is evidence to the contrary.
• Freddie Lee Hall's scores on three IQ tests range from 71 to 80. A judge had previously ruled Hall mentally disabled, but the ruling took place before the state passed a law setting the IQ limit.
• In Georgia, a House committee will be holding an out-of-session meeting to reconsider the state's current law for determining whether a death row inmate has mental retardation. Under the current law, death row inmates are required to prove intellectual disability beyond a reasonable doubt, which is the strictest burden of proof in the nation.
• In 2002, the U.S. Supreme Court in Atkins v. Virginia banned the execution of inmates with mental retardation, but left each state to decide how to determine mental retardation. Georgia's law is the strictest in the United States, and Florida is one of nine states with strict IQ limits.
A Journey of Faith and Justice
This all day free retreat will challenge you to put your faith into action while providing times for prayer, reflection, and dialogue. Join us on November 16 at Our Lady of Lourdes (201 University Blvd Daytona Beach, FL 32118) from 9:30am – 3:45pm with closing Liturgy at 4pm. For more information or to register to attend contact: Office of Advocacy and Justice; 407-246-4819; advocacyjustice@orlandodiocese.org.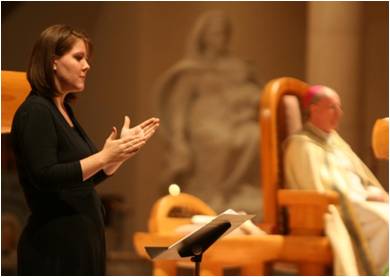 Mass with Community of Deaf Catholics Celebrated by Bishop Noonan
Join Bishop John Noonan as he celebrates Mass this Advent with the Community of Catholics who are Deaf at St. Andrew's Catholic Church (501 N. Hastings St. Orlando, 32806) on Sunday, December 15th, 2013 at 11:30am. A Reception will follow the Liturgy. Contact Office of Advocacy and Justice for more details: 407-246-4819 or advocacyjustice@orlandodiocese.org.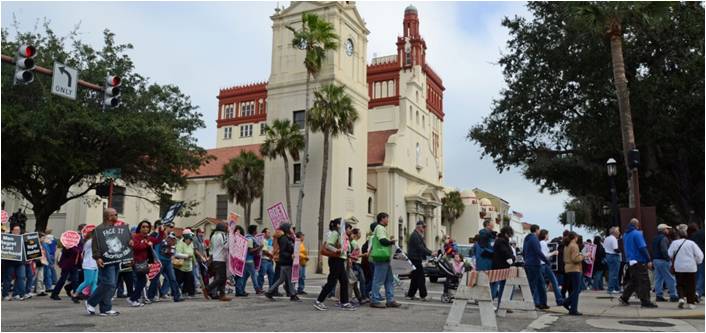 March for Life St. Augustine! Register Now to Stand up for Life in Florida!
Every year since 2007 thousands of pro-lifers from all over Florida have met in our nation's oldest city, St. Augustine, to defend the dignity of human life. Please join our group this coming January 18 in standing up for the unborn. We will have two buses from our diocese going up to St. Augustine on January 18th for the march. The keynote speaker this year is Dr. Theresa Burke Founder of Rachel's Vineyard – the largest post abortion ministry in the world. For more information visit http://www.marchforlifestaugustine.com and to register please call Alejandro Luciano at 407-246-4819 or email aluciano@orlandodiocese.org and write "March for Life FL" in the subject line.
March for Life, Washington D.C. Youth Rally – January 22, 2014
Each year on the morning of the National March for Life; thousands of youth gather from around the nation to attend the Youth Rally and Mass for Life hosted by the Archdiocese of Washington. Once again this year, young Catholics will gather at two locations to celebrate the gift of life and pray for an end to abortion.
The March for Life is attended by hundreds of thousands of people each year to remember the many lives destroyed by abortion and advocate (and pray!) for the least among us; the unborn. If you have a group that would like to attend the Youth Rally for Life on the morning of the march, January 22 2014, please contact Alejandro Luciano at the Office of Advocacy and Justice to request your tickets. Alejandro can be contacted at 407-246-4819 or by email at aluciano@orlandodiocese.org. Tickets are first come first served so please request yours today!
Youth Arts Contest 2014!
Educators lead participants through 5 easy steps to learn about U.S. poverty, CCHD's response, and the Two Feet of Love in Action. Visit the contest materials, or call the Office of Advocacy and Justice for details and ways teachers can meet their class objectives through the implementation of the art project. Call 407-246-4819 or email: advocacyjustice@orlandodiocese.org for more information. DEADLINE is March 1, 2013.
Watch the recent interview with 2012's contest winner, Harley June Smith from St. Mary Magdalen Catholic School and her teacher Mrs. Gilda Brink for ideas on how to get started on your art project submission, here! Or go to our CCHD page on our website.
Catholic Campaign for Human Development (CCHD)
The CCHD national collection date is November 17 in the Diocese of Orlando. For more than 46.5 million Americans, there is a thin line: between eviction and home, between hunger and health, between unemployment and work, between anxiety and stability. This line is the Poverty Line. For a family of four, that line is $23,283 a year*.
* Source: U.S. Census Bureau, Income, Poverty, and Health Insurance Coverage in the United States, 2012.
Read more..
Legislative Updates
Congress Avoids Default, Reaches Last-Minute Deal
After a shutdown of the federal government that lasted 16 days, Congress reached a deal that ended a stalemate, reopened federal agencies, and provided the Treasury Department with the tools to meet the country's financial obligations. Federal workers returned to work on Thursday, but the ripple effect of the shutdown is still expected to be felt throughout the country.
The Senate Majority Leader and Minority Leader reached an accord that keeps the government's doors open until January 15 and suspends enforcement of the debt limit until February 7. The Senate voted 81-18 to ratify the deal on Wednesday, with the House following suit hours later, approving the measure 285-144.
Despite some efforts to defund the Affordable Care Act, as well as legislative efforts to roll back the funding levels set by sequestration, funding for health care reform remains in place, as does the sequester's cuts. The measure also ensures that federal workers who were furloughed during the shutdown will receive back pay for time spent at home, and included disaster relief funding for flood-ravaged Colorado and communities fighting wildfires in the West.
With Shutdown Over, Immigration Reform Possible
In his remarks after the shutdown ended, President Obama expressed his hope that Congress will pass comprehensive immigration reform this year. And the status of negotiations in the House leaves hope that pieces of reform may be signed into law before election-year politics complicate its passage in 2014.
A core group of members in the House are working on legislation that can pass the chamber to make our nation's broken immigration system more fair and just through a pathway to citizenship. While the comprehensive bill passed in the Senate over the summer has only a small chance of passing the House, there is a potential for passing smaller pieces of reform, such as a version of the DREAM Act.
The USCCB Justice for Immigrants Office is planning a national day of advocacy around immigration reform on the feast of St. Francis Cabrini, Wednesday, November 13. They encourage all committed to the cause of justice for the newcomers in our midst to call their representatives and tell them to support a pathway to citizenship and oppose punitive border security measures.
Farm Bill Negotiators Optimistic as House, Senate Seek Compromise
Last week, the first meeting between members of the House and Senate tasked with finding agreement on the reauthorization of the farm bill took place, setting the stage for a full meeting of the committee when Congress returns from recess on October 28.
The conference committee is responsible for crafting a middle ground between competing versions of the farm bill that passed the House and Senate. The Senate version, which includes funding for both rural programs and the Supplemental Nutrition Assistance Program (SNAP, formerly known as food stamps), included a cut of $4 billion to the key anti-hunger program. The House package split rural aid into a different bill, and passed a separate bill authorizing $40 billion in cuts to SNAP.
While the context of deficit reduction may entail some cuts to SNAP, Catholic Charities USA will be engaging its network in substantive advocacy efforts to encourage Congress to keep cuts to a minimum. Stay tuned for Action Alerts and other opportunities to make your voice heard – follow the CCUSA Social Policy team on Twitter @EndPoverty for all the latest updates.
SNAP Benefits to Decrease Nov. 1
Beginning Nov. 1, stimulus funding for the Supplemental Nutrition Assistance Program (SNAP, or Food Stamps) will expire. This means that SNAP benefits, which had been boosted with stimulus funding, will be cut for all households. A new fact sheet explains what this may look like for different households and how to offset the reductions with various income deductions. Also check out the SNAP guide to learn how to increase benefits for seniors using the medical expense deduction.
Learn more | Download SNAP resource guide
Some News from the National Coalition on Aging
What Does the Latest Budget Deal Mean for Seniors?
The federal government is back to work, and the debt ceiling has been raised. But what about the Affordable Care Act and deep sequester cuts to programs? See our breakdown of what Congress agreed to last week, and what budget challenges still lie ahead. Get the details
5 Tips to Avoid Scams During Open Enrollment
It's Medicare Open Enrollment—the time of year when scammers tend to surface, especially this year with the new Health Insurance Marketplace gearing up. Share our 5 tips to help seniors protect their identity and finances this season.
Get 5 tips | See what the Marketplace means for seniors
Sustaining People and the Land
FOOD DAY on Thursday, Oct. 24, highlighted the national movement — and many local efforts — for healthy, affordable and sustainable food. This is an opportunity to think about how we might make new policies for growing and sharing food.
Many of these ideas fit well with the National Catholic Rural Life Center's Ethics of Eating principles. Readers might also find the website Food Tank an informative and engaging one. Here's their recent article in recognition of Food Day.