Click Here for Already Publicized Celebrations/Events
Human Masterpieces, Life Issues Forum, December
by Anne McGuire
As I watched in shock, the same questions kept coming back to me: How can these soldiers do this? How can they act so brutally against their fellow man? I was watching a movie about Pope John Paul II before he became pope, and the scenes playing out before me were of the Nazi soldiers' actions during that horrific period in history.
Throughout the movie, I kept coming back to this conclusion: What it means to be human had been forgotten. How could one person act with such cold-hearted, inhumane cruelty towards another person? Could it be that they no longer thought of the recipients of their violence as people, but were viewing them in a detached manner as something less-than-human, thus undeserving of respect? Read more.
National Migration Week 2014: January 5-11
National Migration Week 2014 will take place January 5-11 with the theme, "Out of the Darkness." Migrants and particularly the most vulnerable migrants: children, the undocumented, refugees, and victims of human trafficking, often find themselves existing in a kind of figurative darkness where their options remain limited and their ability to live out their lives in its fullness severely restricted. Often at risk of violence or exploitation these vulnerable populations need to be provided the support needed so that they can thrive. Read more.
Justice for Immigrants Holds a Call- In effort to Legislators on January 8th
You can also send an e-postcard to your member of congress to advocate for immigration reform. More information here.
Urge Congress to Set the Table to End Hunger!
Join Pope Francis' call to action so our brothers and sisters here and around the world have enough nutritious food.
Food is a basic need and a fundamental human right; yet there are 842 million children, women and men who are hungry in the world. Join Pope Francis' call to action so our brothers and sisters here and around the world have enough nutritious food.
Right now, your members of Congress face critical decisions about how the United States will respond to hunger here and around the world.
Your voice is needed now! Please urge your members of Congress to Set the Table To End Hunger by:
Rejecting cuts and changes to the domestic anti-hunger program (SNAP) that will harm vulnerable children, seniors, unemployed and underemployed people, and persons with disabilities.
Making sensible changes to the Food for Peace U.S. international food assistance program so that it is more efficient and reaches more people with the same level of funding.
Support U.S. poverty-focused humanitarian and development assistance, including critical food aid programs, that helps prevent and alleviate poverty and hunger around the world.
Stewardship of the Earth
Evangelii Gaudium and the Environment
Last week, Pope Francis issued his Apostolic Exhortation Evangelii Gaudium. The document is prophetic on multiple social issues, and includes among them the Christian vocation to care for creation:
#56: The thirst for power and possessions knows no limits. In this system, which tends to devour everything which stands in the way of increased profits, whatever is fragile, like the environment, is defenseless before the interests of a defied market, which become the only rule.
#215. We human beings are not only the beneficiaries but also the stewards of other creatures. Thanks to our bodies, God has joined us so closely to the world around us that we can feel the desertification of the soil almost as a physical ailment, and the extinction of a species as a painful disfigurement. Let us not leave in our wake a swatch of destruction and death which will affect our own lives and those of future generations.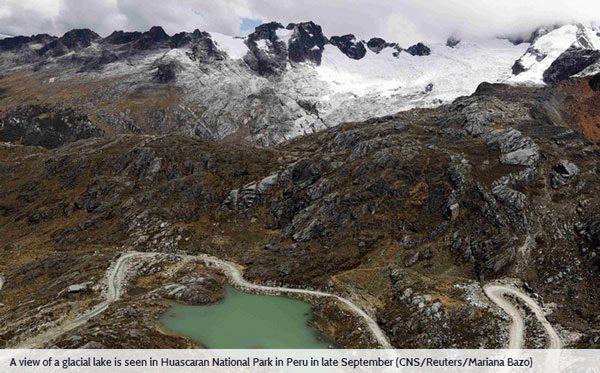 U.N. Climate Negotiations
The United Nations Framework Convention on Climate Change met on November 11-22, 2013 in Warsaw, Poland, in an attempt to move closer to an international climate change agreement. At the conference, Archbishop Celestino Migliore, the Vatican's representative to the conference, told attendees that climate change is an "ethical challenge to civilization." Archbishop Migliore, along with Patriarch Bartholomew and attendees of a side-conference organized by Catholic groups, also encouraged countries to support an international treaty—a call repeatedly made by Pope Emeritus Benedict XVI.
Despite producing small advances, Catholic News Service reports that the U.N. conference largely disappointed Catholic delegates. "Given the urgency of the problems, we always have high expectations, but this summit's outcome is far from what's needed," said Emilie Johann, policy and advocacy officer with CIDSE, a Brussels-based alliance of 17 Catholic aid groups. Additionally, Chris Bain, director of Britain's Catholic Fund for Overseas Development, said he was disappointed the summit failed to achieve steps to limit rising temperatures to an average of two degrees Celsius by the end of the century.
A Fruitful Year for Catholic Mobilizing Network to End the Use of the Death Penalty (CMN) 2013 in Review
Catholic Mobilizing Network to End the Use of the Death Penalty (CMN) lifted the Catholic voice for life in 2013! With support from state Catholic conferences, the Congregation of St. Joseph, the USCCB, and many diocesan offices, CMN reached thousands through our numerous resources, convention exhibitions, press outreach activities, special events, and more.
As CMN has focused in years past, CMN continues to focus on creating, testing and sharing new tools for Catholics interested in learning, teaching and engaging others in the movement to end the death penalty. The list of 2013 highlights demonstrates how far we have come and how much more we can achieve in 2014 and beyond with your support.
In Shadow as Well as Light: An Advent Prayer from CRS (See online)
Loving and gracious God,
When the days grow darker
Casting long, cold shadows
Allowing fear and despair into our lives
Let my light shine brighter.
When the task grows more wearisome
Filling valleys and flattening mountains
Building highways in the desert
Be the strength in my bones.
When I wait on you
And they shake their heads
Saying, "Have you not heard the news?"
Keep in my heart the good news that makes even the child in the womb leap with joy:
That you are coming into the world.
May I praise you in shadow as well as light.
May I praise you in winter as well as spring.
May I praise you in silence as well as song.
May I praise you in solitude as well as companionship.
May I praise you in illness as well as health.
And when the last glowing beam disappears over the horizon
And darkness shrouds the land
Give me the grace to say to all,
Despair not
Morning is coming.
Come, Lord Jesus, come.