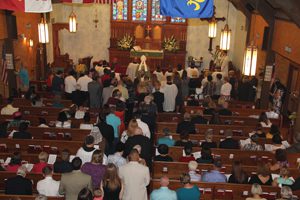 September 16 was a joyous day when the clergy and 140 parishioners of the former Anglican Cathedral of the Incarnation in Orlando were received into the Catholic Church.
Bishop John Noonan and Monsignor Jeffrey Steenson, head of the Houston-based Personal Ordinariate of the Chair of St. Peter, confirmed (or, if previously Catholic, received back into the Catholic Church) parishioners of what is now Incarnation Catholic Church. Incarnation is the first Anglican community in Florida to become Catholic as part of the Ordinariate.
Equivalent to a diocese, though national in scope, the Ordinariate was established by Pope Benedict XVI earlier this year in response to repeated requests from former Anglican groups and clergy seeking to become Catholic as a group, while retaining elements of the Anglican heritage and liturgy.
A former Episcopal bishop of Rio Grande, N.M., Monsignor Steenson was ordained a Catholic priest in 2009, and is now a full voting member of the U.S. Conference of Catholic Bishops. Monsignor Steenson and his wife, Debra, have three grown children and a grandson. Because he is married, he will not be ordained a bishop.
"In much joy and gratitude, Bishop Noonan and I are privileged to witness your courageous decision to come into full communion with the Catholic Church today," Monsignor Steenson said. "I can't tell you what a joy that means to me, and I hope each of you making this journey will find this joy of being Catholic yourself. This is the culmination of your ecclesial journey over the years to know and embrace the truth as Christ revealed to us."
At present, 22 former Anglican or Episcopal priests and 20 communities have been received into the Catholic Church through the Ordinariate. There are three Ordinariates in the world: the United States and Canada, the United Kingdom and Australia.
"We rejoice with the people of the Incarnation Church for their faithfulness. We pray for them on this holy day that they may live steadfast to the Lord's covenant," Bishop Noonan noted.
Louis Campese, a former Anglican bishop at the cathedral, returned to the Catholic Church as a lay person. He had left the Catholic faith at age 25. "This is such an emotional day for me," Campese said. "It is all about Jesus' prayer to his Father in John 17:21, where he said the Church should be one so the world will know that God sent him. That has been in my heart. There is just no question when you feel that pull from the Holy Spirit to do whatever you can to make the Church one. I cannot believe this is happening in my lifetime." Campese will serve as the administrator of the church until a pastor is named.
Pope Benedict XVI established the Ordinariate of the Chair of St. Peter on Jan. 1, 2012. In the Apostolic Constitution "Anglicanorun Coetibu," Pope Benedict XVI said, "The Church, a people gathered into the unity of the Father, the Son and the Holy Spirit, was instituted by our Lord Jesus Christ, as 'a sacrament — a sign and instrument, that is, of communion with God and of unity among all people.'"
Although located within the geographic area of the Diocese of Orlando, Incarnation is part of the national Ordinariate of the Chair of St. Peter. Like other non-Catholics, the members of Incarnation were required to prepare to be received into the Church.
Anglican clergy seeking to be ordained a Catholic priest have to first complete an extensive process, including background checks, an endorsement by the local Ordinary, in this case Bishop Noonan, approval by the head of the Ordinariate and Vatican, and completion of an approved formation program. Monsignor Steenson told the congregation that William Holiday, who was an Anglican priest, was expected to be ordained a Catholic priest soon and would serve as pastor of Incarnation. In the meantime, Father Joseph Roberts, a retired Catholic priest from Our Lady of the Lakes Parish in Deltona, will provide priestly services.
Monsignor Steenson told the congregation that like Peter in Sunday's Gospel, Mark 8:27-35, they had to have the courage of heart and the strength to step out and receive God's gift of faith. Peter, he said, took a risk for the one that he loved in declaring Jesus as the Messiah when others called him John the Baptist, Elijah and a prophet. In response, Jesus gave Peter the keys to the kingdom of heaven and made Peter the rock upon which he built his Church. At that moment, Monsignor Steenson said, the Catholic Church was constituted and Peter made its leader.
"That is part of our story today as we have come to full communion with the Catholic Church," he said. "Christ desired that Peter and his successors would be the Church and a symbol of Catholic unity for all Christian people. And so in obedience and faith, after 477 years since Henry VIII threw the pope (Clement) out of England, we are home."
Editor's Note:
• Will Catholics be able to fully participate in Catholic activities at this church? Roman Catholics can participate in any activities at the Incarnation Church
• Can a Latin-Rite Catholics join this church? No, but also this is a Latin-Rite church so the question more would be can a member of a regular diocesan parish join? The short answer is, in most cases, no. Anglicanorum coetibus says members of the Ordinariate must originally have belonged to an Anglican Church or have received the Sacraments of Initiation within the jurisdiction of the Ordinariate. While lifelong Catholics are welcome to attend Masses in an ordinariate parish, they would be members of a regular diocese and diocesan parish. (An exception is made for close family where one member was Anglican.)
• It may be confusing to read "former bishop" and then no title for Louis Campese. Does he have absolutely no title whatsoever? What liturgical standing, if any, does he have? He is no longer a member of the clergy. He is a lay Catholic. It would be helpful to say former Anglican bishop to be clear he never was a bishop in the Catholic Church.