ORLANDO – A re-creation of the Monet masterpiece "Bathers at La Grenouillere" garnered Kayla K., an 8th grade student at St. James Cathedral, the Best of Show Award at the 4th Annual Orlando Catholic School Fine Arts Extravaganza. Kayla's attention to the smallest of details wowed judges and guests alike, who commented on how her use of tiny brush strokes brought the piece to life.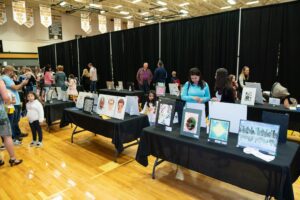 "Celebrating the arts in our Catholic schools is important because art has always been a very rich tradition in Church history. A prime example is the Sistine Chapel," said Henry Fortier, Secretary for Education and Superintendent of Catholic Schools for the Diocese of Orlando. "The more we bring out the talent of our students in the foundation of our faith, the more we continue the richness of our Catholic faith, expressed in music, dance and art."
More than 500 people attended the event at Bishop Moore Catholic High School on March 7. K-8th grade students from Orange, Seminole and Osceola Catholic schools shared their artistic, musical, choral, and dramatic talents. New to this year's lineup was a routine by the Bishop Moore Black and Gold Brigade.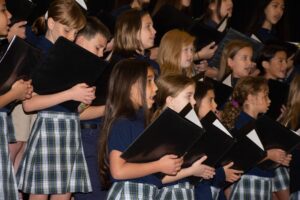 Another highlight of the show was the announcement of the People's Choice Award, which went to Edith D., a 4th grade student at Good Shepherd Catholic School. Edith created a colorful mosaic for her mixed media piece.
The Orlando event was the first of four regional and county-wide Catholic school art shows being held throughout the diocese. Upcoming shows include:
Volusia Catholic Schools Evening of the Arts, Thursday, March 19, 4:30-6 p.m., Fr. Lopez Catholic High School, Daytona Beach
Polk County Catholic Schools Fine Arts Show, Tuesday, March 31, 5-6:30 p.m., Santa Fe Catholic High School, Lakeland
Brevard Catholic Schools Evening of the Arts, Wednesday, April 1, 4-6 p.m., St. John the Evangelist Catholic Church, Viera.
"Through the various art shows held throughout our diocese, our students are able to praise and worship God through their various talents," Fortier said.
For a complete list of Orlando Catholic School winners, visit orlandocatholicschools.org.
By Linda Caldwell, special to the Florida Catholic March 11, 2020