Our Catholic Appeal will be held the weekend of February 15,16 in parishes.
Our Catholic Appeal is an annual opportunity for Catholics of the Diocese of Orlando to share in the pastoral work of Christ by funding the important diocesan programs and ministries. This critical operating support enables the diocese to provide people, parishes and schools with a variety of essential services that change lives and lead souls to heaven. Below are three people whose spiritual lives have blossomed thanks to support of the campaign. Our Catholic Appeal weekend is Feb. 15-16 at all parishes.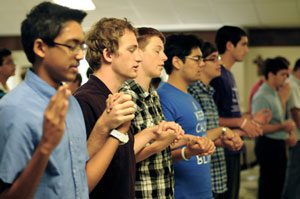 Leading toward a vocation
Sixteen-year-old Patrick joined 40 other young men to learn more about the priesthood during a Quo Vadis retreat sponsored by the Diocese of Orlando Office of Vocations. The retreat helped the teen learn to trust God and discover his vocation.
"I think if I'm a priest it's my job to help souls get into heaven," Patrick said. "There's nothing more important than that. If God wants me to become a priest, that is what I will do."
During the retreat, he spent hours in prayer but also spent time with many priests to learn about their faith journey.
"I enjoyed talking to priests about their vocation," Patrick said. "I learned that we are not discerning alone."
Patrick also attended Focus 11, another diocesan event that helps 11-year-old students and 11th-grade students to discover their purpose in life and to be open to God's call to a priestly or religious vocation. In addition, the Diocese of Orlando offers vocation awareness weekends that give young people the chance to visit seminaries and convents.
"It is essential we support these young men and women who are discerning a call to priesthood and religious life in their early stages of formation," said Father Jorge Torres, director of vocations.
Programs like the Quo Vadis retreat, Focus 11 and vocation awareness weekends are made possible through funds from Our Catholic Appeal.
Forming leaders in Christ
It took more than 60 years for Richard Nelson to seek God with all his heart, but the senior shows how it's never too late to find faith.
At age 65 he was baptized, confirmed, and received his first Communion during the Easter Vigil in 2008 at St. Mark the Evangelist Parish in Summerfield. The search for God started after he accompanied his wife, Judith, to Mass, which sparked a deep curiosity for Christ. After many meetings with a parish deacon, he attended formation sessions to become Catholic.
"Everything clicked and fell into place," Nelson said. "I fell in love with the faith. That's where I am now and I'm still learning."
Following his baptism, Nelson began participating in daily Mass and volunteering at a soup kitchen. He said his conversion to Catholicism changed his life.
"It has put me more at ease, at peace with myself and God," he said.
Our Catholic Appeal funds the work of the diocesan Office of Faith Formation, which offers training for parish staff who welcome and form new Catholics. Their ministry is enriched so they can help people prepare for the sacraments and continue the faith traditions we cherish. A total of 415 people were baptized, confirmed and received their first Communion during the Easter Vigil in 2013.
The Office of Faith Formation also purchases books, pamphlets and other materials to help form the faith of believers, regardless of age.
Making time for God on campus
Heather Wernke is pursuing a double major in space physics and computational mathematics at Embry-Riddle Aeronautical University in Daytona Beach. She is focused on her rigorous academics, but she is also focused on the wisdom of the Lord.
She serves as secretary of the Catholic Student Union ministry board, is an altar server at Sunday Mass and leads a Why Catholic? adult faith formation group.
"The people help me grow in my faith," Wernke said. "Having that support group and being a support for others as well is important."
Gifts to Our Catholic Appeal help Catholic campus ministry programs across the Diocese of Orlando purchase liturgical supplies as well as books and learning materials. Our Catholic Appeal also provides funding for leadership and faith development opportunities, such as the Why Catholic? program, which helps participants learn more about the Catholic view on biblical justice and morality.
The Diocese of Orlando recently created a forum for Catholic student leaders, from universities and colleges like Embry-Riddle, to come together to convey new ideas and help their communities thrive.
"The whole goal of Catholic campus ministry is to have students be young disciples and be young Catholic leaders," said Dennis Johnson Jr., senior director of faith formation for the diocese. "We're developing them to be Catholics in the world, mature and engaged in their faith."