MELBOURNE | Thirty years ago Janna Hogan Forschino was stopped in traffic due to a Christmas parade and was struck by the absence of Christ. Wondering why Christians did not do something about it, she realized she was one of those Christians and she had the power to make a change. On Dec. 7, 51 churches processed just under three miles in Melbourne, with floats and costumes depicting the books and characters of the bible and declaring that Jesus is Lord as thousands lined the streets to see Bible on Parade.
Monsignor David Page of Holy Name of Jesus Parish in Indialantic remembers the invitation from Forschino and he was all in from the start. He loves the opportunity to proclaim the word of God on the streets of Melbourne. Now 87 years old, he rides in a car and gets off periodically to proclaim the Word, walking from side to side, speaking to the crowds.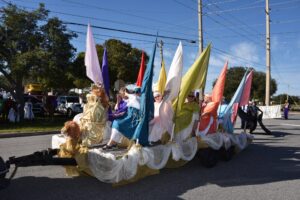 "It is a great demonstration of Christian unity," he said. "Christ prayed at the Last Supper, 'That all may be one as the Father and I are one.' It is one of the things missing today in our churches. Christ established only one Church and he wanted us all to be a part of it. It is important to give that witness."
This year he rode in the truck pulling the Psalms float. When he got off, he preached on Christian unity dressed as St. Paul. Monsignor said each year people come up to him and share how he helped them, even many non-Catholics. He has depicted many of the apostles and several prophets. It is a reminder that we are all called to be priest, prophet and king.
Amy Sullivan and husband Eric Smith are in their tenth year as coordinators for Immaculate Conception in Melbourne Beach. They took it on as a labor of love and gratitude to Deacon Howard Pettengill and his wife Ellen, who asked them to take over after 20 years. "We are called to serve," said Sullivan. "We all care about each other, so when there is something we can do to help, we do." She counts on Christ to provide and He always does.
The call to "do something" was also answered by Pastor Emeritus of Immaculate Conception, Father Peter Sagorski. Several years ago, while praying the Liturgy of the Hours, the image of three white figures in front of a horizontal rainbow with a pipe connecting the shoulders came to him for several days. Formerly trained as an engineer and designer, he purchased three Sacred Heart statues of varying sizes and went to work constructing the image he envisioned.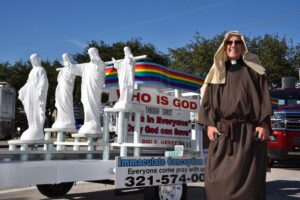 "Lord, what do you want me to do with this?" he prayed. The next day, a four-year-old boy asked him, "Who is God?" Father Sagorski responded, "God is someone who loves you very much." He never saw the boy again. Recounting the story to Father Ben Berinti, C.PP.S., the pastor told Father Sagorski he now knew the creation would be a "teaching aid." Within weeks Father Sagorski was invited to participate in Bible on Parade. The "float" has been in the parade ever since. "It's been a personal project for me. It's been a wonderful challenge and experience," Father Sagorski said.
Ascension Parish in Melbourne was assigned Ephesians and Galatians this year. Nearly 30 volunteers are currently organized by Eddy Merlet of the Knights of Columbus Council 14573. This is Merlet's sixth year in the parade. "It is something so nice. We're representing Christ. It brings tears to your eyes. As a Catholic, it's important. It's more about Christ, than it is about Christmas," he noted.
Barbara Procko of Holy Name of Jesus agrees. For 28 years she has managed 75 volunteers making the Gospels, Ezra, Psalms and more come alive. The floats dramatize the Last Supper, Crucifixion and the Annunciation (which she creates for Divine Mercy Radio). For her, it is a family affair. Her husband, Paul, built the Book of Ezra float this year. Her daughter helps decorate and her grandchildren, ages 1 to 31 years of age have all participated. "It is a statement of our belief," said Procko. "We also say Jesus is the reason for the season, so I knew the good Lord wanted me involved."
She considered limiting her commitment last year due to health issues. Thinking of turning some of it over, God had different plans. "Jesus walked into my dream one night and told me, 'Tell my story.' At that point, all my anxiety left. I am just so grateful to do this, my portion,'" said Procko. "When Jesus walks into your dream, you say, 'Yes sir.'
"I believe in evangelization and going after the lost," she stated. "I'm not shy about sharing my witness because God is so good. We all have our journeys and it's been an awesome journey. I think the Catholic Church needed to be represented in the Bible on Parade because we are the Apostolic Church. We remind people that all the branches that have come on have come from the Catholic Church. We welcome all our brothers and sisters in the faith in this extended family of ours in the body of Christ."
By Glenda Meekins of the Florida Catholic December 18, 2019