DELTONA | Thirty-five pilgrims from Our Lady of the Lakes Parish in Deltona mounted a bus Jan. 12 to attend March for Life in St. Augustine. Walking from Mission Nombre de Dios down St. George's St. and ending in the Plaza de la Constitución in the center of downtown, the group joined more than 3,000 pro-lifers of different faiths. People traveled up from Miami and down from southern Georgia to defend life from conception to natural death.
Our Lady of the Lakes Knights of Columbus Council 6584 in Deltona coordinated transportation to the event. Grand Knight, Bill Feuerbacher, said it is important to attend "to be a voice for the unborn children. If it saves one life it is worth the effort," he stated. "I'm saddened by the loss of innocent babies and hope to help women and men realize there really is a valid reason and choice for them—to choose life and bring their baby into this world."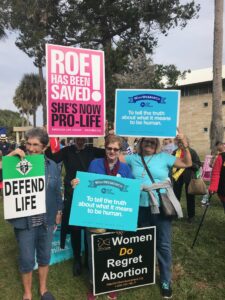 His wife, Margarita, is the coordinator for the Respect Life Ministry at Our Lady of the Lakes. She began going to the march more than 10 years ago. "I'm very pro-life and I believe in the cause and standing up in the public square for the rights of the unborn," she said. Margarita attended March for Life in Washington, D.C. last year, and also participates frequently in Catholic Days at the Capitol. But for many, the trip to Washington D.C. is difficult. The Florida march provides an opportunity at a local level.
The Feuerbachers have eight children ages 19 to 39. Their life speaks to their profound beliefs. She says her passion grew "organically", noting her mother was a strong supporter of life with five children herself. Her mother was also involved in the pro-life ministry. The legacy of support carries on in the Feuerbachers' children who have also attended similar events over the years. Their youngest son often attends Catholic Days at the Capitol with them.
"God created life and wants us to protect it," affirmed Margarita. "I think He asks each of us to take our part in that."
By Glenda Meekins of the Florida Catholic – January 14, 2019