On Tuesday, February 3, over 160 ministry leaders and volunteers from Central Deanery North gathered for a volunteer appreciation breakfast where they had a unique opportunity to learn about harmonizing ministries within their parishes. The event began with Bishop John Noonan celebrating the Mass and he spoke of one of his top diocesan priorities, harmonizing ministries.
"Sometimes in our parishes and in our lives we are all over the place and it's very hard to focus on one thing we have in common. In the Gospel, Jesus said, 'This is the time of fulfillment. The kingdom of God is at hand. Repent and believe.' Simply that's the message of the Gospel and all of us are called to be faithful to the Gospel message. It's not about other things. It's truly focusing on what's important," said Bishop Noonan.
He continued: "We can do all the work in the world but if we don't bring Christ to other people-what are we about. Everything we do we bring Christ with us. Today we come together to harmonize, to refocus, to look at our lives and make sure we know where we are going so we can bring Christ to others."
The event was hosted by the diocesan Office of Advocacy and Justice in collaboration with Catholic Charities of Central Florida, Society of St. Vincent de Paul, Knights of Columbus and Council of Catholic Women. Bishop Noonan also thanked the parish ministry volunteers who give many hours of their time in outreach and educational ministries to the community.
"Our goal is to come together to look at what we do in the form of outreach and service to those most in need and to dialogue and discover how we can work together to better meet the needs in our community," said Deborah Stafford-Shearer, director of the Office of Advocacy and Justice.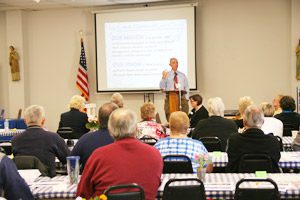 Ministry leaders spoke about their mission and areas of service and there was time for small group discussion to identify current challenges to collaboration at parishes and to identify current parish programs and outreach to the community where ministries could unite to share resources and increase success.
"Coming together like this allows our ministries to focus on their common themes of charity, to feel good about our faith and bring more people together to do what the good Lord calls us to do," said Michael Vallaro, Knights of Columbus Council 11488 and Pro-Life Coordinator. "It is a way of impacting our faith and society through evangelization."
Attendees valued the opportunity to learn about other ministries and determine how they can work together to become more successful.
"We wanted to bring these ministries together to honor the work that they do and give them a chance to connect and discover ways to integrate their resources, services and outreach," said Stafford- Shearer.
We had a good discussion about the different ministries in our church," said Laurie Tucker, parishioner at St. Margaret Mary Catholic Church and clerical volunteer at Catholic Charities of Central Florida. "Many of us are overlapping and could benefit from combining our efforts and working together."