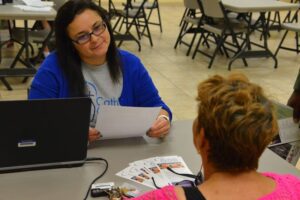 Maria Vargas came to the United States from the Colombia jungle 30 years ago. An American citizen who would like her mother to join her in the States, she was grateful for the presence of an immigration attorney from Catholic Charities of Central Florida available at her parish, Our Lady of Grace in Palm Bay, on Jan. 20.
"What is the process to follow for my mom to be able to visit?" Vargas asked the attorney – then added, "My mom is very sick and I'm grateful to Father Emmanuel for calling me about this. If she could become a resident here I would be so proud."
Father Emmanuel Akalue, parochial administrator, explained that he had talked with Catholic Charities representatives about how they could help the people of Palm Bay. Catholic Charities answered his request and their presence in the parish began in December on the first and third Fridays of every month.
"We are one of the most diverse parishes in the diocese," Father Akalue said. "More than 60 countries were represented at our Heritage Festival. We are rich in culture, but we are the poor area of Brevard. Our St. Vincent de Paul Society serves over 400 people per month. We have a soup kitchen every Friday. We need help with family assistance and legal aid and now Catholic Charities is here. We are sharing our Catholicity in all its dimensions – it's a good way to show that it's not just food for the poor."
Rosa Reich is a program manager for Catholic Charities and indicated that because transportation can be a major issue, they go to the people.
"I think this is an excellent example of how we work as a Catholic community between the Church and Catholic Charities," Reich said. "We are out in the community where people need us."
Friday was chosen intentionally because it's the day of the soup kitchen and Father Akalue introduced the two Catholic Charities representatives to the attendees.
"When a person has nothing and I'm able to help them with a driver's license or legal issues to change their status and become legal," said Vanessa McCarthy, Esq. "it's the reason I went into public service."
McCarthy is personally familiar with immigration issues. She came from Brazil in 2000 and is now a citizen. She started working at Catholic Charities in 2014 and is fluent in English, Spanish and Portuguese.
"I can help people get immigration status, work authorization, family petitions and humanitarian benefits," McCarthy continued. "Clients are often victims of domestic violence or unaccompanied immigrant children.
Andrew Schirmacher, a case manager, was also there to help families who are homeless or in financial distress.
"We are here to help people who have for one reason or another had an issue that has caused them to become homeless, Schirmacher said. "We help stabilize them and help them move forward."
Jacqueline Hayes is an advocate for a 74 year old man soon to be homeless who sought help from Schirmacher.
"I asked questions and I got excellent answers," Hayes said. "I've been running around for three or four weeks and no one has given the answers Andy has. He clearly loves what he does and I thank God for him."
Father Akalue indicated that it would be a slow process – that some people are afraid to come forward because they're not legal and wonder if they can trust the process.
"We are here to help them," Father Akalue said. "We're very grateful Catholic Charities is here and we plan for Vanessa and Andy to come to speak at all weekend Masses soon, so everyone will know they are here."