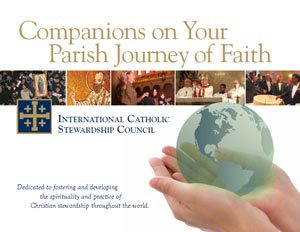 During the regional meeting of Florida attendees at the International Catholic Stewardship Council Annual Conference (ICSC) in Chicago this past September, there were a number of attendees whom expressed a desire to gather as parishes to discuss common challenges and issues in stewardship. As a result, there is a Parish Stewardship Networking Day scheduled for January 23rd at St. Margaret Mary in Winter Park. All details can be found below:
A Parish Stewardship Networking Day will be held on Thursday, January 23, 2013, 10:00 a.m. – 2:30 p.m. at St. Margaret Mary Catholic Church, 526 N. Park Avenue, Winter Park. Refreshments and lunch will be provided. There is no cost to attend.
The purpose of this parish stewardship day is to allow clergy and lay representatives from parishes to network and discuss their stewardship plans, efforts, and philosophies. This is not a traditional seminar in that it is strong on face to face discussion and communication so that attendees can ask questions of and share insights with other parishes instituting and practicing stewardship. Basically it is an opportunity for us to discuss common challenges and issues.
Facilitators are:
Ed Laughlin, St. Bernadette, Port Saint Lucie
Lois Locey, St. Mary Magdalen, Altamonte Springs
Bill Timmes, St. Margaret Mary, Winter Park
RSVP is important for meal planning. To RSVP, please e-mail or call Ed Laughlin, cathstewardship@aol.com, 772-342-0062.