ST. AUGUSTINE | When Yarimer Pietrantoni began the Respect Life Ministry at Holy Redeemer Parish, Kissimmee in 2017, she did not anticipate the response it received. On Jan. 15, she took almost 100 parishioners in two buses to the 16th annual March for Life in St. Augustine. Many committed to return, moved by the speakers and the experience.
"It is not an easy ministry, but when you know you are serving God, you push forward," Pietrantoni said. With four children of her own, she is committed to raising awareness about what happens to aborted babies and teaching fellow parishioners how to walk with mothers in need.
Most people who attended the march this year were new to the event thanks to Pietrantoni's vocalization of the cause.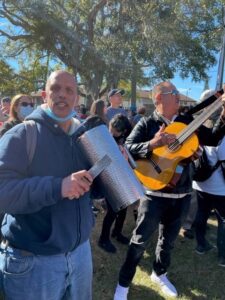 The morning began with Mass celebrated by Diocese of St. Augustine Bishop Felipe Estévez at the Shrine of Our Lady of La Leche. As Holy Redeemer parishioners took their place, they began walking the mile-long stretch to Plaza de la Constitución, singing, playing guitars, and carrying signs proclaiming the sanctity of life.
First-timer Eva Alvarez wanted to participate for several years, but something always got in the way. She was glad to finally march and see so many young people realizing abortion affects their lives, even if it has not happened to them. Their visible witness reflected this year's theme, "Heal Our Wounded Culture, Choose Love, Choose Life", which focuses on healing the wounds carried as a culture – by choosing love of God.
Alvarez was not always a strong proponent. She noted a serious illness in 1997. No one expected her to live. When she survived, she took stock of her own life. "Life is a gift from God. I cannot say that I believe in God and not respect the gift of life," she said. "For me this was a way of sharing my gratitude to the one who gives us everything." She recalled how no one spoke about abortion when she was young. She appreciated today's young people are talking about it with greater understanding.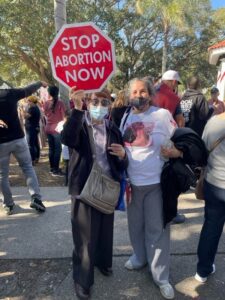 Julio Bricelo walked ahead of his group, taking photos and video of the event. Although he participated several times before, he said there was something different about this year's march. He noticed the intentional engagement of his parish family and bystanders. Finding it difficult to put into words, he said, "It was a marvelous experience… something that requires you to be present to experience what is lived." As he surveyed the crowd, he saw many "lifting their prayers, united".  He said this unity is important, to the cause and as people guided by their faith in Jesus.
"These are people willing to continue fighting for the rights of the unborn. They are willing to continue forward despite the obstacles." He noted March for Life marks a path forward "to continue the good fight". Many along the way approached him, affirming their march was making a difference.
Bricelo attributes the palpable energy and determination to a greater awareness of what abortion is, especially after events of the past several years – New York's extension of the date one can have an abortion, the election of conservative judges to the Supreme Court, and the frequency of Planned Parenthood in the news.
Alex Chaparro attributes some of that awareness to Pietrantoni's talks, lectures, and presentations; the work of the many working to end the legalization of abortion; and the Holy Spirit. "Everybody is being enlightened as to what is going on," he said.
He, like Bricelo, noticed the ramped-up level of excitement in both marchers and bystanders. "I saw the spark in their eyes," he said, as though they were experiencing the event for the first time.
Declaring a "passion for the voiceless", Chaparro said he's always been "a person of justice". He stated the need to continue reaching out to people who feel isolated or alone. He was particularly moved by speaker Pam Stenzel, who spoke at the end of the march. Stenzel explained she is the product of rape, yet her mother decided to keep her. She said, her father's actions didn't mean she wasn't worthy to be born. He believes many were impacted by her testimony.
"We are all family… We are all made in the same image and likeness of God," Chaparro affirmed. "That is what we need to focus on."
By Glenda Meekins of the Florida Catholic Staff, January 19, 2022