CASSELBERRY | Victoria Martinez' birthday was March 21 and her son Adam turned 26 the following day. This year they planned to celebrate together, along with Pathways to Care director, Dawn Zinger, and fellow lay Franciscan Jeanne Walters, whose birthdays are also in March.
Zinger was thrilled with the plan. "We become the residents' family," she noted. "Something like this shows the residents here that there are people who care for them." She explained that often the homeless isolate themselves and feel less than human. "When outsiders come in and treat them well and they sit and break bread together, it puts the human back in them."
Martinez said inspiration came from Father Augustine Clark, her pastor at Nativity Parish in Longwood. Earlier this year, he invited a speaker from Pathways to Care to share what they do and encouraged parishioners to donate alms as part of their Lenten project. Martinez said Father Augustine is always talking about "following the generosity of Jesus." "For me, to follow His example of love and service to others creates the path to caring from the human to the divine. It's the full circle of love!" said Martinez.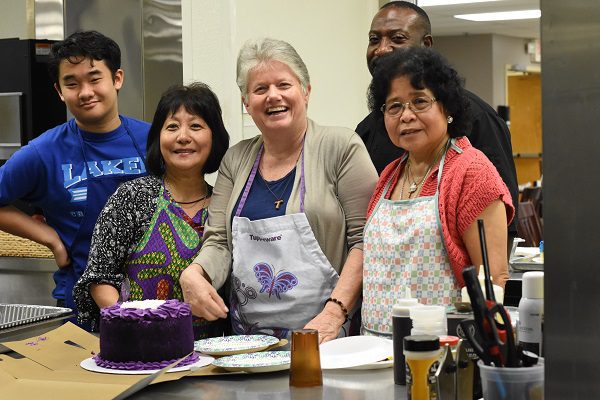 Along with both her sons, husband Art and friends, Martinez brought lunch for roughly 20 Pathways to Care residents in Casselberry. Assisting the homeless and veterans who have nowhere to go for rehabilitation, the 40-bed assisted living facility, a service of Catholic Charities of Central Florida, provides quality healthcare, housing and hope as well as transition opportunities for employment and permanent housing.
Shortly after listening to the speaker at her parish, Martinez decided to visit Pathways and took some much-needed towels. She seized the opportunity for a tour which prompted the idea to celebrate the birthdays by giving back. "I thought it would be wonderful for my family and extended family to go there and serve," she said. She had served in a soup kitchen when she lived in Detroit, but noted, "I want my family here in Florida to have that experience. It would be nice for them to see what I see."
The joyful group provided lunch and spent time sharing a meal and talking with residents. "This is the perfect place to be in service to others. It's the Franciscan way," said Martinez. Rather than bring gifts for Martinez and her son, guests brought towels and toiletries for the residents.
Mr. B, a resident, said he had not attended a birthday party in eight years. He added that the thought of someone wanting to spend their birthday with him and other residents, "is crazy." He noted, "It's always nice to talk to someone who is different and get a fresh perspective on things." He and Martinez' friend, Ester Martinez, shared their stories over lunch.
Another resident sat with Martinez and spoke about prayer and how it had helped him overcome his medical challenges. "It's all about prayer and God who gave him the strength to move on," said Martinez.
"We have this perspective that when you're in Lent, you're supposed to be quiet and melancholy because of the Lord's passing," noted Martinez. "But it's really joyful because the mystery of the suffering of Christ is really the mystery of love and joy after you experience love. Doing this is like Lenten joy. It is slowly changing my perspective about Lent. It is about joy—anticipating the resurrection. The cross is love."
She wanted to share that love in the Franciscan way, where "everything is service in peace and good."
By Glenda Meekins of the Florida Catholic – March 20, 2019