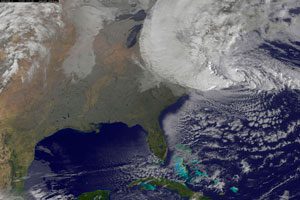 During a special collection Nov. 10 and 11 in the Diocese of Orlando for the victims of Hurricane Sandy, parishioners showed solidarity with our brothers and sisters who were impacted by the devastation. At the request of Bishop John Noonan, parishes held the special collection which raised $341,634. The check was issued to the United States Conference of Catholic Bishops (USCCB) earlier this month. The money will be dispersed to Catholic Charities USA (CCUSA) which is providing assistance along the East Coast and Catholic Relief Services (CRS) which is helping people deal with the destruction caused by Hurricane Sandy in Cuba, Jamaica and Haiti.
Bevin Kennedy, with the Office of National Collections of the USCCB, said CCUSA and CRS have been working tirelessly for immediate disaster relief, while the USCCB intends to provide long-term recovery support, such as rebuilding church structures, to the Catholic Church in tangent with CCUSA.
Picture: Hurricane Sandy is seen moving toward the East Coast of the U.S. in this NASA satellite image taken on Oct. 29, 2012 (NASA/REUTERS)
Catholic School Children Help Students in New York
Students at All Souls Catholic School in Sanford know firsthand that pennies do add up. For one week in December, students collected their spare change to help children in the Archdiocese of New York affected by Hurricane Sandy. During an Advent prayer service, representatives from each class brought forth their class donations, pouring them into a collection basket. Jennifer Heneghan, principal, said the students were happy to be able to make a contribution.
Henry Fortier, superintendent of Catholic Schools in the Diocese of Orlando, said donations from All Souls and other schools enabled the Office of Catholic Schools to donate $10,000 to the Staten Island Parent Federation, part of the Archdiocese of New York. The money will be used to help the families of Catholic school children in the area who are in need of scholarship assistance while their homes are being rebuilt.
Having worked closely with the schools in the Archdiocese of New York prior to coming to Orlando, Fortier said he was especially touched by the generous efforts of Central Florida Catholic School students. He said, "I am very proud of our schools for everything our students have done to help the Hurricane Sandy victims."