OVIEDO | If you think you need to spend a lot of money and leave the country to experience a pilgrimage think again. Take a cue from Most Precious Blood parishioners Natalie Bose-Silver and Cassie Schauff. The duo is on a mission to visit all 91 parishes and missions in the Diocese of Orlando. They began Palm Sunday of last year. They've made it to 26 locations so far and hope to finish before the end of the year.
"I was having personal issues, fighting with myself and I stopped going to church," explained Bose-Silver, chef for the priests at Annunciation Parish in Altamonte Springs. There she met Father Bill Gohring. He said, "Natalie, you know a lot of priests. You need to go back to church. I think you should go visit your friends and pick one every Sunday." He encouraged her to make a day of it. She thought, "I can do more than visit my priest friends. I can make this into a pilgrimage."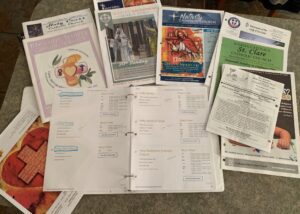 She went home and told her friend Cassie Schauff, who decided to join her. Schauff was heavily involved in ministry at Most Precious Blood and was excited about the idea. She had done something similar over the past several summers, and was eager to resume the adventure.
Schauff and Bose-Silver made a binder with information on every parish and mission. They calculated the distance and time to each parish and began their pilgrimage at Good Shepherd Parish in Orlando right before last Easter. They set one important rule. To count for the pilgrimage, they have to attend Mass together in the selected parish. Where they go depends on how much time they have on a given Sunday. At every parish, they celebrate Mass, collect a bulletin to remember the date they visited, take a photo of the altar, and try to take a photo with the priest.
"Seeing my faith celebrated in different ways has been a healing process," noted Bose-Silver. Sometimes she prefers her parish experience, but most often finds something she hopes to incorporate into her faith life. "I really appreciate what I have and what I see out there. I meet all kinds of cool people," she said. Although she is clear to emphasize they are not rating the parishes, she says her favorite so far has been Holy Dormition, an Eastern Rite Byzantine church in Ormond Beach. "I see God in many things," she said. She was attracted to a bulletin board with the words, "Slavic Kitchen" on it. Immediately she recalled her friend, Father Dominic Buckley, who used to tell her she was Slavic, because of her accent. Even though she's really from Guatemala, she loved the connection and the memory. She instantly felt at home.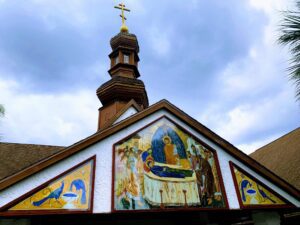 That same day, the duo had celebrated Mass at St. Clare Parish in Deltona, deciding to experience both the Latin Roman and Eastern Byzantine Rite on the same day. Schauff said it truly heightened the awareness of the differences. "The Byzantine church is more like a high Mass with Gregorian chanting and incense."
Schauff says, as a visitor, she is more likely to notice the details in a church. From the niches for cremated remains at Incarnation Catholic Church in Orlando (part of the Ordinariate of the Chair of St. Peter), formerly Anglican, to where the tabernacle is kept. Being in facilities management, Schauff enjoys observing the architecture, from the Byzantine Slavic minarets at Holy Dormition to the more mid-century modern Blessed Trinity Parish in Orlando.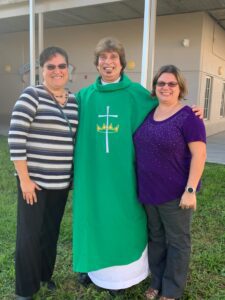 Both love the chance to greet priests who are friends and meet new ones. "We went to the first 10 a.m. Mass at St. Frances Xavier Cabrini," recalled Schauff. "It was awesome to see Father Charles Viviano. We really liked him. He was very energetic. It is so awesome for him to be at the beginning of a church because of his energy. As he talked, you could feel his strong vision of making that community grow." They also love learning about special order priests who serve in the diocese. She said it is interesting to see how they share their unique charisms and weave that into the celebration of Mass.
"It's definitely interesting to learn something new and to appreciate what you have at your own parish," said Bose-Silver. The experience has made her want to explore parishes beyond the diocese. "I'm just touching the surface of the whole thing. Everybody should do something like this in their life," she said enthusiastically. Schauff agrees saying, "It's refreshing."
For a complete list of all parishes and missions in the diocese visit https://www.orlandodiocese.org/parishes/find-a-parish/
By Glenda Meekins of the Florida Catholic January 22, 2020