Our Catholic Appeal is an annual opportunity for every member of the faith family to support the life-changing work of the Diocese of Orlando. Gifts to Our Catholic Appeal fund a wide variety of ministries that serve the nine counties of the diocese in ways that no parish could accomplish alone. Gifts to Our Catholic Appeal are the sole source of funding for 28 ministries that benefit every parish, mission and school in the diocese in addition to providing critical support for outreach programs such as Catholic Charities of Central Florida, Hope CommUnity Center, and schools in the Diocese of San Juan de la Maguana in the Dominican Republic. Below are just three of the countless stories of how donations to Our Catholic Appeal are enkindling a deeper faith, harmonizing ministries, and forming leaders in Christ in the Diocese of Orlando.
Enkindling a Deeper Faith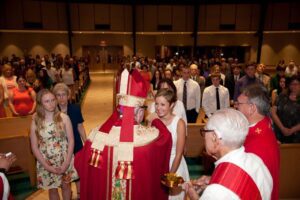 Quentin, 15, began youth ministry at St. Thomas Aquinas Catholic Church in St. Cloud this year. He has developed faith-filled friendships with other teens but more importantly has discovered a friendship with Jesus Christ.
"Every time I go to youth ministry we always do something new, but it always relates to God," said Quentin. "I find myself praying more often and more comfortably. Youth ministry has brought me closer to God through prayer."
Our Catholic Appeal supports ministries to help young people know Jesus, grow in faith, and develop Christian leadership skills. Diocesan events such as the World Youth Day pilgrimage, FOCUS 11 vocation retreats, and the Life Rally, provide youth with an opportunity to encounter God. Your supports funds training for youth ministers and other educators.
"Our diocesan offices provide support and training so youth ministry leaders can have resources and use best practices in order to faithfully and professionally fulfill these responsibilities entrusted to us," said Mary Klemm, St. Thomas Aquinas youth minister.
Harmonizing Ministries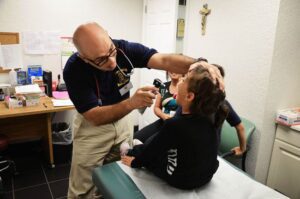 Ada Martinez's life was normal until things spiraled out of control. Catholic Charities was there as a shelter from the storm.
"I was having financial troubles between work and my marriage falling apart," said Martinez who came to Catholic Charities when facing eviction. "By the time I came up with the rent money, it was too late.
Catholic Charities saved us from being on the streets, being hungry and only God knows what else."
Through gifts to our Catholic Appeal, Catholic Charities of Central Florida helps more than 100,000 people each year with food, housing, healthcare, and adoption services. Working in partnership with parishes, families in crisis are treated with dignity as they receive personalized case management to return to self-sufficiency. Last year, Catholic Charities also provided financial assistance to victims of the Pulse tragedy and reunited refugee families.
"What's beautiful about Catholic Charities is that we have a very broad mission that is essentially to extend God's mercy and love to those in need," said Gary Tester, executive director of Catholic Charities of Central Florida.
Forming Leaders in Christ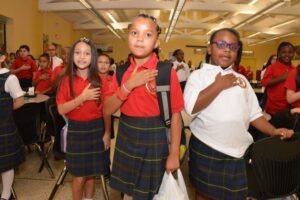 Grace Larkins has given her children a great gift – the gift of a Catholic education. By sending them to the Basilica School of St. Paul in Daytona Beach, she knows they spend each day in an environment where
their Catholic faith is nurtured and they can excel academically.
"I like bringing my children to Catholic school because they learn so much and it's a high standard of learning," said Larkins. "It's amazing to see them develop in their knowledge, values, skills, and most
importantly, their love for God."
With the support of Our Catholic Appeal teachers at all Catholic schools within the Diocese of Orlando receive ongoing formation and professional development. This training ensures that diocesan schools proclaim the Gospel message within an environment of excellence. We challenge students to be creative and critical thinkers who integrate faith, moral leadership and compassionate service in order to create a more just and humane world.
"These trainings give us the foundation of knowledge we need to fulfill our roles and strengthen our Catholic identity," said Ron Pagano, principal of the Basilica School of St. Paul.