ORMOND BEACH│When Pat Rogerson became involved seven years ago with fellow parishioners who regularly participate in Adoration of Blessed Sacrament at Prince of Peace Parish in Ormond Beach, she never dreamed she would one day organize a complement of 200 members of the faithful who would make perpetual adoration of the Blessed Sacrament a reality in their parish community. That day came Dec. 23, as Bishop John Noonan led a procession with the Blessed Sacrament from the parish, about a quarter mile to the new Perpetual Adoration Chapel.
The blue ceiling, warmly painted walls, stone and wood create an immediate sense of peace in this space with seating for just 14 people. "As this is an Adoration Chapel, Father Bill (Zamborsky, pastor) wanted a very intimate space designed for only a handful of people," said Bert Karpinski of Ovation Construction, Inc. "The design is such that each person maintains an intimate distance from the altar allowing personal reflection without distraction."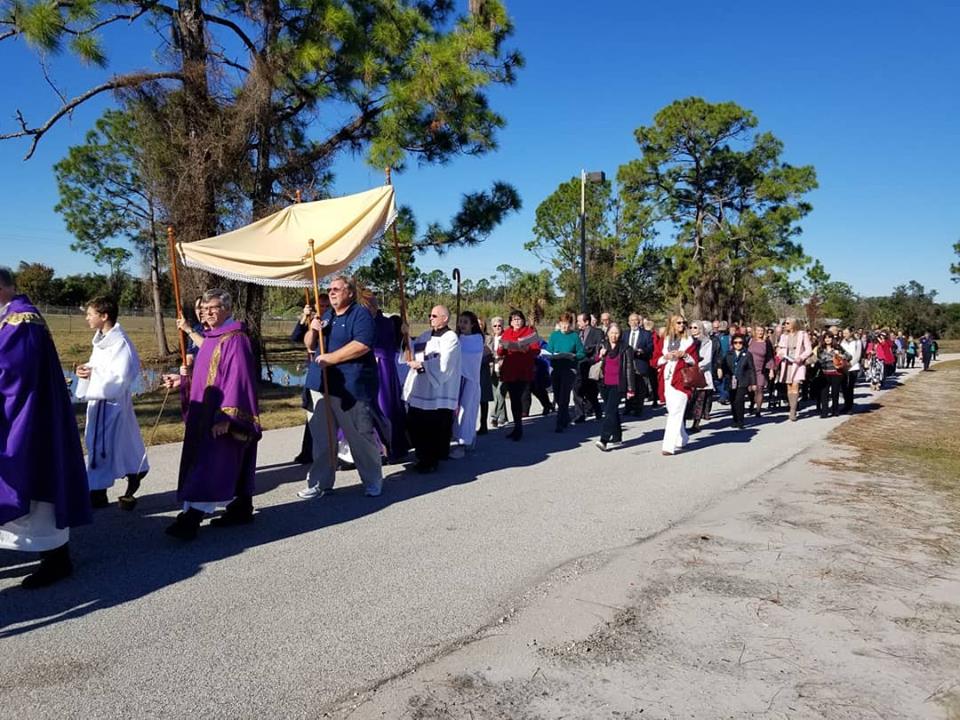 Father Zamborsky hopes time spent here with Jesus will help "fill the void" created by today's relativism, hedonism and materialism. In a recent reflection, he spoke of the benefits of spending an hour with Jesus—calm, tranquility, joy, wholeness and holiness. "This begins the very first time you spend an hour with Jesus in the Blessed Sacrament. It continues in your weekly commitment until one day you make the happy discovery that your longtime companion, The Void, has been replaced by two new friends, Meaning and Joy," he stated.
Rogerson, who struggled with her hour at first, shared, "Adoration helped me see things as the really are. It took away my anger and frustration… It helps you see things in a better light." She is now in charge of insuring that Our Lord is never alone. Despite most parishioners being older, she has no trouble securing adorers. Cameras constantly monitor the chapel, allowing parishioners to feel safe coming and going late at night or early in the morning. The doors are locked between 7 p.m. and 7 a.m. and adorers will use a key card to get inside.
Rogerson prays this new chapel, in its very visible location off a busy road, will help more people come back to the church and develop a relationship with Christ. This 12-year parish dream was driven to completion by the Diocese of Orlando's Year of the Eucharist. "I've come to realize Christ is my best friend," she said. "He is the one person who is always there, 24/7, to help me."
By Glenda Meekins of the Florida Catholic – January 3, 2019