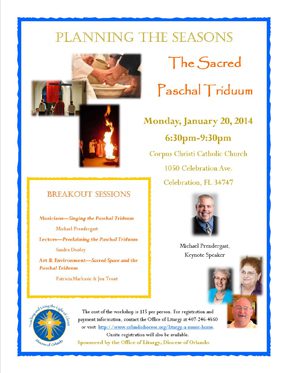 Workshop for all Clergy, Liturgy Directors, Music Directors, Readers, and Art & Environment Ministry.
Monday, January 20, 2014
6:30pm-9:30pm
Corpus Christi Catholic Church
1050 Celebration Ave.
Celebration, FL 34747
Acclaimed author and clinician Michael Prendergast of Sacred Liturgy Ministries will be the keynote speaker for this informative workshop on the Sacred Paschal Triduum. Breakout sessions for musicians, readers, and art & environment ministers will be offered as well. Download a flyer with complete information by clicking on the graphic to the left.
The cost of the workshop is $15 per person. Pre-registrations may be made online by clicking here or by sending payment and a list of those attending with the name of the parish to: Office of Liturgy, Diocese of Orlando, P.O. Box 1800, Orlando, FL 32802.
Checks should be made out to the Diocese of Orlando. Be sure to put "Planning the Seasons" on the memo line.
Onsite registration will also be available.
Please contact the Office of Liturgy with any questions at 407-246-4860 or akohl@orlandodiocese.org.