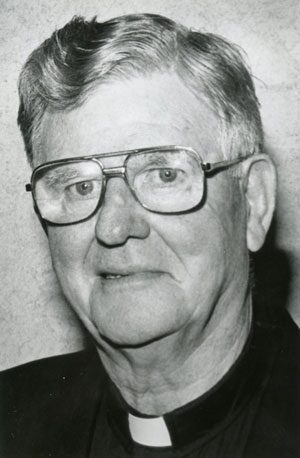 Monsignor Terence Joseph Farrelly
February 10, 1924-April 29, 2014
Monsignor Terence Joseph Farrelly died peacefully in his home in Rockledge on April 29, 2014. He was 90 years old. Monsignor Farrelly was born on Feb. 10, 1924 in Kingscourt, County Cavan, Ireland. He is predeceased by his father, Michael, and mother, Catherine, née Reilly.
Monsignor Farrelly was ordained by Archbishop Joseph P. Hurley, then the bishop of St. Augustine, on May 18, 1950. He was president of Bishop Kenny High School in Jacksonville and served at several parishes, including St. Paul's Catholic Church in Leesburg and St. Andrew's Catholic Church in Orlando, before being named administrator and then pastor of St. James Catholic Church (now St. James Cathedral) in Orlando in 1957. During his 15-year tenure at the parish, the Diocese of Orlando was formed on June 18, 1968.
Throughout the years, Monsignor Farrelly also served as diocesan director of hospitals; diocesan consultor; dean of clergy; diocesan chaplain for the Knights of Columbus; and director of Catholic Charities. In 1965, Pope John Paul VI named him a papal chamberlain and conferred upon him the title of monsignor for his distinguished service.
In 1972, Monsignor Farrelly was appointed pastor of St. Mary Catholic Church where he ministered to the people of God for 21 years until his retirement in 1993. In the years that followed, Monsignor Farrelly continued to serve the people of St. Mary, assisting when needed.
Monsignor Farrelly will be remembered as a kindly priest with a deep love of teaching the Catholic faith to all the people.
Visitation will be held on Monday, May 5 from 12 noon – 6 p.m. at Beckman-Williamson Funeral Home, 5400 Village Drive, Rockledge with a prayer service concluding the Visitation at 5 p.m. A viewing will be held on May 6, 9-10 a.m. at St. James Cathedral, 215 N. Orange Ave., Orlando. Bishop John Noonan will celebrate a Funeral Mass on Tuesday, May 6 at 10:30 a.m. at St. James Cathedral. The interment will take place at San Pedro Center, 2400 Dike Road in Winter Park. In lieu of flowers, donations may be made to the Priests' Retirement Fund, c/o The Catholic Foundation of Central Florida, P.O. Box 4905, Orlando, FL 32802.