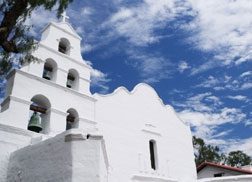 A special collection for the Society for the Propagation of the Faith, a Pontifical Mission Society will be held at parishes on October 20, World Mission Sunday.
Donations make it possible for missionaries, local priests, religious sisters and brothers and catechists to reach out to communities, families and children in desperate need, bringing the Light of Christ to the darkest of circumstances.
This collection supports clinics caring for the sick and dying, orphanages, schools, seminaries and faith formation programs in mission dioceses throughout the world, mostly in Africa and Asia.
The collection is a sign of universal solidarity as Christians recognize their common responsibility with regard to the evangelization of the world.
In his message for World Mission Sunday 2013, Pope Francis states:
"The Church … is not a relief organization, an enterprise or an NGO, but a community of people, animated by the Holy Spirit, who have lived and are living the wonder of the encounter with Jesus Christ and want to share this experience of deep joy, the message of salvation that the Lord gave us. It is the Holy Spirit that guides the Church in this path."