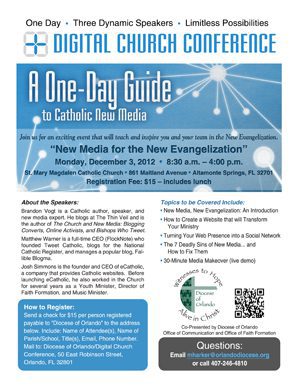 One of the most important challenges facing the task of evangelization today is that which is emerging from the digital environment. Pope Benedict XVI calls attention to this particular topic, in the context of the Year of Faith, in his choice of theme for the forty-seventh World Communications Day: 'Social Networks: Portals of Truth and Faith; New Spaces for Evangelization," read an announcement released Sept. 28 by the Pontifical Council for Social Communications.
The Diocese of Orlando Office of Communications and Office of Faith Formation invite you to a one day conference on December 3 at St. Mary Magdalen in Altamonte Spring to learn how to tap into the power of social networking and other new media for new evangelization.
Three nationally recognized speakers will provide dynamic presentations and inspire you and teach you how to use new media such as websites, social media and e-marketing to promote the Gospel values that are critically needed in our culture. This conference will show you new possibilities for the new evangelization and new ways to announce the Gospel.